Bitcoin Miners See Revenue Per TH/s Nearly Triple in 3 Months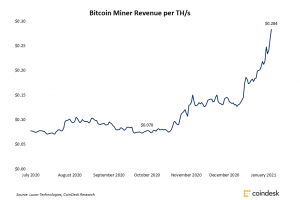 Bitcoin mining revenue has nearly tripled in the past three months measured by dollars per terahashes per second (TH/s).
In early October, miners were earning roughly $0.078 per TH/s.
Following bitcoin's parabolic price rally, that revenue has soared by 265%, reaching $0.284 Thursday.
Not since early August 2019 has miner revenue reached these levels, according to data from Luxor Technologies.
Bitcoin cut through the $40,000 mark Thursday afternoon, extending its early year gains to well over 30%, extending on its more than 300% gains in 2020.
With market conditions prompting existing miners to expand their operations and new participants to join the sector, mining equipment manufacturers are struggling to keep pace with demand.Bitmain, for example, has sold out until August and nearly doubled the price of its S19 model, per CoinDesk's prior reporting.
Amid the mining machine shortage, miners are scouring secondary markets for any available and efficient machines they can find as mining revenue continues to increase along bitcoin's price.

Source: Read Full Article