Crypto Markets Suffer Heavy Losses, Bitcoin Price Sinks More Than 25% in 24 Hours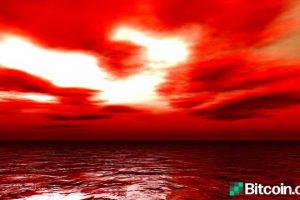 Cryptocurrency markets have suffered significant losses during the last 24 hours, as the entire crypto market cap has dropped below a trillion to $823 billion losing roughly 9.9% in value. Since the bitcoin price height on Sunday, January 10, bitcoin's price plummeted over 25%, seeing the largest price dive of the year.
Digital currency markets are in the red on Monday, as crypto assets have lost anywhere between 15% to over 35% during the last 24 hours. The leading digital asset by market valuation, bitcoin (BTC) is down over 20% at the time of publication.
Bitcoin (BTC) dropped to a low of $30,261 on Monday afternoon (EST) losing 25.2% after reaching a high of $41,056 on Sunday. At the time of writing, BTC is swapping for prices above $32k per unit with $38 billion in global BTC trade volume.
Ethereum lost significant value during the last 24 hours as well as the crypto asset is currently down 27%. Ethereum (ETH) is swapping for $933 per unit after reaching well above the $13k handle the day prior.
XRP took a 15% loss as it trades for $0.27 per token and bitcoin cash (BCH) is down 30% today. BCH hit a 2021 high on Sunday, capturing a value of over $625 per coin. Right now, however, bitcoin cash (BCH) is changing hands at $413 per unit.
The biggest gainers today are up between 8% to 91% on Monday with the token stakenet leading the pack. This is followed by other crypto-assets that have seen gains on Monday including STK, ZEN, MXC, and DAG.
The biggest losing token today in the crypto economy is CTXC which has lost 47%. Following CTXC, coins such as DMT, BCD, RCN, and MKR have seen some deep losses as well.
Since bitcoin's (BTC) significant drop this past weekend, there's now an upside gap on the CME Group bitcoin futures chart. The two large gaps on both sides are between $23,670 – $26,645 (downside) and between $39,165 – $40,535 (upside).
Simon Peters, an analyst at Etoro, explained in a note to investors that crypto markets are still in a healthy position. "Despite the dip yesterday— we are still in a healthy position," Peters wrote. "Not only are we continuing to see institutional investment, but bitcoin being held on exchanges is decreasing as investors move their tokens to wallets, with Glassnode data showing an increasing level of illiquid bitcoin as more and more investors hodl."
The Etoro analyst further added he wouldn't be surprised to see BTC prices above the $70k range at the end of the year. "I believe we can look to the $70,000-90,000 range as a price target for the end of 2021," Peters said. "There will inevitably be bumps along the road, and no doubt a number of retracements will occur, but there are also gains still to be had."
Check out all the latest cryptocurrency price action in real-time at markets.Bitcoin.com.
Source: Read Full Article