Cryptocurrency Mining Firm Marathon's Market Cap Passes $1B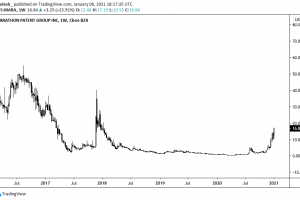 Nasdaq-listed cryptocurrency mining firm Marathon Patent Group (MARA) reached a total market value of $1 billion as its shares surged Wednesday to the highest in more than three years, over $17.
Shares of the Las Vegas-based company have soared over 1,700% in the past 12 months. Bitcoin gained roughly 330% over the same period.
Marathon has been mining some cryptocurrency since at least 2016, but considerably increased its focus on mining operations in the past few years. At the cryptocurrency market's prior peak in late 2017, Marathon barely had a $50 million market capitalization.
Coinciding with its recent nearly parabolic increase in share price, Marathon has aggressively expanded its mining capacity, with a total of 90,000 new machines purchased in October and December.
In an email to CoinDesk, CEO Merrick Okamoto said the milestone is "a very special moment for our company."
"Many of our shareholders stuck with us through the difficult times in our industry," Okamoto said. "We feel honored that those who stayed on this journey are now reaping this financial reward for their patience and confidence in our company."
The company also completed a $200 million capital raise Monday and announced a "clean block" mining pool with DMG Blockchain Solutions "that adheres to the Office of Foreign Asset Control's (OFAC) compliance standards and reduces the risk of mining blocks that include transactions linked to nefarious activities," per a release.
Marathon reached the billion-dollar market value club a week after publicly traded bitcoin miner Riot Blockchain also reached $1 billion in market value.
Bitcoin's sustained rally over the past year has benefited publicly traded mining companies across the board, with the gains of nearly all of their shares outperforming the leading cryptocurrency, per CoinDesk's prior reporting.
Update (Jan. 6, 21:21 UTC): Updated with a statement from Marathon.
Source: Read Full Article