Ignoring Outages, Coinbase Futures Set Record Highs as Bitcoin Rally Continues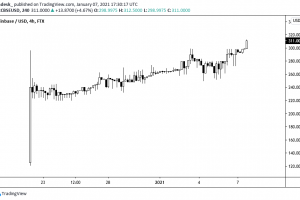 Pre-public offering futures for leading U.S.-exchange Coinbase hit $311 Thursday on derivatives exchange FTX amid bitcoin's parabolic price rally and despite Coinbase's ongoing "connectivity issues."
The exchange suffered "connectivity issues" for six hours yesterday, with the same problem resurfacing today. The company said it is working to implement a fix in its latest status page's incident report.
At their launch, Coinbase futures previously topped out just above $295.
Notably, FTX's CBSE futures market is still quite small, reporting roughly $33,000 in 24-hour volume.
Bitcoin ripped through $39,000 for the first time ever late Thursday morning, recording an over 30% gain already in 2021 following its more than 300% rally last year.
FTX CEO Sam Bankman-Fried told CoinDesk in mid December his team was working to get legal clarity fromnon-U.S. regulators before launching the market.
Coinbase futures soared 140% in their first hour of trading a few days later.
In mid December, Coinbase filed preliminary documents ahead of a planned public offering, tapping Goldman Sachs to lead the listing days later.
Source: Read Full Article