IMF Tells Governments: Spend as Much as You Can and Then Spend More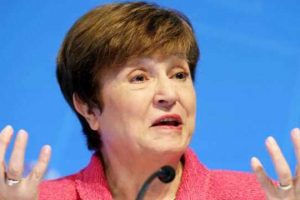 The head of the International Monetary Fund (IMF) has called on countries worldwide to spend as much as they can and then spend more. She admitted that this is a "very unusual" policy for the IMF but it is needed to revive economies. Many people are interpreting her statement as very bullish for bitcoin.
IMF Encourages Mass Spending
IMF Managing Director Kristalina Georgieva has urged governments worldwide to spend as much as they can and then spend even more. She said on Friday at Russia's annual Gaidar economic forum that policymakers worldwide should embrace more spending to help revive their economies. She was quoted by Reuters as saying:
In terms of policies for right now, very unusual for the IMF, starting in March I would go out and I would say: 'please spend'. Spend as much as you can and then spend a little bit more.
"I continue to advocate for monetary policy accommodation and fiscal policies that protect the economy from collapse at a time when we are on purpose restricting both production and consumption," she added. "IMF staff calculated that a coordinated G20 fiscal stimulus in green infrastructure, if it is done in a coordinated manner, would deliver two-thirds more in growth … than if each country acts on its own." Georgieva also noted that in 2020, the IMF provided support to 83 countries.
Massive Government Spending Bullish for Bitcoin
Bitcoiners on social media view this news as ultra bullish for BTC. Many people interpret the IMF chief's plea as "brrrr as much as you can." Others commented: "Money printer goes brrrr" and "buy bitcoin."
This is not the first time that the crypto community has discussed how massive government spending would boost the price of bitcoin. Early bitcoin investor Bruce Fenton previously described, "stimulus & increased government spending causes rising prices, bitcoin wins." River Financial tweeted last week:
Many of our largest clients have made sizable allocations to bitcoin primarily because of the unsustainable government spending and quantitative easing from the Fed.
Source: Read Full Article