JPMorgan Predicts $146K Bitcoin Price as Competition With Gold Escalates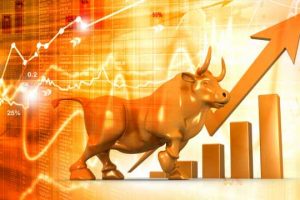 JPMorgan's analysts have made a case that bitcoin's price could reach $146,000 as the cryptocurrency's competition with gold heats up. Meanwhile, the firm's global strategist sees the current bitcoin bull run as being similar to the bull run of 2017. He warns of three risks that could affect bitcoin's outlook for 2021.
JPMorgan Sets Bitcoin's Price Target at $146K
JPMorgan published a report Monday on bitcoin's valuation and future outlook. "We cannot exclude the possibility that the current speculative mania will propagate further, pushing the bitcoin price up towards the consensus region of between $50k-$100k," the analysts wrote. "We believe that such price levels would prove unsustainable."
They explained: "Bitcoin's competition with gold has already started in our mind as evidenced by the more than $3bn of inflows into the Grayscale Bitcoin Trust and the more than $7bn of outflows from Gold ETFs since mid-October." The report elaborates:
The market cap of bitcoin at $575bn currently would have to rise by x4.6 from here, implying a theoretical bitcoin price of $146k, to match the total private sector investment in gold via ETFs or bars and coins.
The analysts added: "A convergence in volatilities between bitcoin and gold is unlikely to happen quickly and is in our mind a multi-year process. This implies that the above $146k theoretical bitcoin price target should be considered as a long-term target."
JPMorgan Strategist Says Current Bitcoin Bull Run Similar to 2017
JPMorgan's senior global markets strategist Nikolaos Panigirtzoglou, one of the report authors, also shared his 2021 outlook for bitcoin on CNBC's Squawk Alley last week.
"There are three risks in my mind," he began. "The first one is the strong consensus that exists at the moment that the bitcoin price will reach in 2021 — $50,000 or $100,000. We know from other asset classes that when there is a crowded consensus, it rarely materializes as originally envisaged."
He continued, "The second risk has to do with the speculative money that exists among retail but also institutional investors," adding:
The speculative money among retail investors at the moment is not that dissimilar to what we saw at the end of 2017.
"Institutional investors have also built speculative positions over the past couple of months and we see that in the CME bitcoin futures," Panigirtzoglou asserted. "I think it's wrong here to assume that all the bitcoin ascent this year has been driven by institutional buying and all that institutional buying is by long-term institutional investors. There are also speculative institutional investors."
The third factor he discussed was whether more people will be using bitcoin and more merchants will be accepting it in 2021. Despite payments giant Paypal promising to enable bitcoin payments at its 28 million merchants worldwide, the JPMorgan strategist is still not convinced.
"I don't think so," Panigirtzoglou said. "The acceptance of bitcoin as a payment system, as a payments currency, is conditional on regulatory restrictions and approvals. As a result, it would be difficult here to imagine that next year we will see a massive change on that front."
The JPMorgan strategist concluded: "I think what changed this year is the perception of bitcoin's digital gold. But as a payments currency, it's far from seeing much of a change here, but again we don't need the bitcoin here to become a payments currency for the price to go up."
Source: Read Full Article