London Summit 2021 Underway with Networking Blitz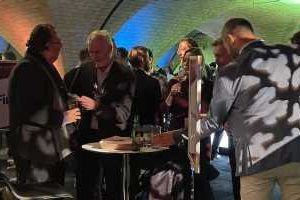 London Summit is back with the industry's best and brightest gathering at the Old Billingsgate Vaults. Sponsored by AloGateway, the Networking Blitz has seen a steady stream of attendees looking to mingle and do business.
The annual Blitz represents a unique opening party for London Summit, bringing together individuals from all corners of the industry into a single meeting space, doling out drinks, and creating the perfect setting for networking.
The Main Event
Wednesday, November 17 will feature a full slate of in-depth panels, seminars, and sessions, that will all touch on and delve into the biggest topics from across the financial services industry.
If you have not done so already, we encourage you to familiarize yourself with the London Summit 2021 agenda.
CEOs panel to set the stage
Like every year, London Summit will feature its marquee panel, the Leaders Roundtable. Which trends will shape 2022? What keeps CEOs busy, and where do they identify opportunities for growth?
Join executives of the largest firms in the industry for our signature headline-generating mix of analysis, insight, and predictions.
Attendees can also expect multiple topics to be included during the panel discussions, with this year emphasizing a vision of what is to come after a chaotic year.
Other topics of note include the following panel discussions:
Cutting Edge: The Latest in CFDs Technology
Evolution of the FX and Crypto Industries
Roads to Roadshow: IPOs in 2022
The City's Post-Brexit Future as a Financial Hub
Liquidity in FX and Beyond in 2022
Roadblocks & Building Blocks: Crypto Amid Scrutiny and Growth
London Summit 2021 Awards winners to be announced
Each year, Finance Magnates has recognized the leading industry participants that have outperformed their peers across key segments.
This year has been no exception, following a multi-stage voting process in which the industry itself has ultimately ranked the best performing and most promising companies.
The London Summit 2021 Awards recognize a wide range of different performers, including the best providers in liquidity, execution, trading platform, marketing and performance, and other aspects of the trading industry eco-system.
The winners of each respective category will be announced at the annual awards ceremony immediately following the event – you won't want to miss this!
Source: Read Full Article