Microstrategy Selling up to $1 Billion of MSTR Stock to Buy Bitcoin – Markets and Prices Bitcoin News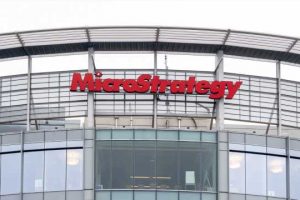 Microstrategy Inc. is selling up to $1 billion of its common stock, MSTR, with the aim to use some of the net proceeds to buy bitcoin. The Nasdaq-listed company also recently completed a $500 million secured notes offering and will use the proceeds to acquire bitcoins.
Selling MSTR Stock to Buy Bitcoin
Microstrategy Inc. has filed a registration statement with the U.S. Securities and Exchange Commission (SEC) to launch an "'at the market' securities offering for flexibility to sell up to $1 billion of its class A common stock over time," the company announced Monday. The company's class A common stock is listed on the Nasdaq Global Select Market under the symbol MSTR.
In the prospectus filed with the SEC for this offering, Microstrategy explained how it plans to use the sale proceeds, stating:
We intend to use the net proceeds from the sale of any class A common stock offered under this prospectus for general corporate purposes, including the acquisition of bitcoin, unless otherwise indicated in the applicable prospectus supplement.
Microstrategy Inc. currently hodls approximately 92,079 bitcoins, which are being held by a newly formed subsidiary, Macrostrategy LLC.
The company also announced Monday that it has completed a $500 million offering of 6.125% senior secured notes and the proceeds will be used to buy more bitcoins. At the current price, the gross proceeds from this offering could fetch as many as 12,500 BTC. This would raise Microstrategy's total bitcoin holdings to more than 100,000 BTC.
The company's prospectus filed with the SEC describes:
Microstrategy pursues two corporate strategies in the operation of its business. One strategy is to acquire and hold bitcoin and the other strategy is to grow our enterprise analytics software business.
"We view our bitcoin holdings as long-term holdings, and we do not plan to engage in regular trading of bitcoin and have not hedged or otherwise entered into derivative contracts with respect to our bitcoin holdings, though we may sell bitcoin in future periods as needed to generate cash for treasury management and other general corporate purposes," the company detailed.
Microstrategy further noted, "We are also exploring opportunities to apply bitcoin-related technologies such as blockchain analytics into our software offerings."
Source: Read Full Article