Biden Announces $4 Bln Project To Replace Baltimore And Potomac Tunnel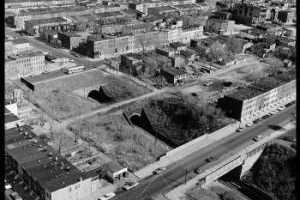 President Joe Biden has announced a $4 billion project to replace the 150-year-old Baltimore And Potomac Tunnel.
Biden traveled to Baltimore, Maryland, to kick off the major project funded by the Bipartisan Infrastructure Law.
The president, who has the nickname "Amtrak Joe," recalled delays he encountered at the tunnel when travelling via rail between Delaware and Washington D.C. as a Senator.
This project will address the largest rail bottleneck on the Northeast Corridor between Washington, D.C. and New Jersey. It is estimated to create 30,000 good-paying jobs, according to the White House.
A project kickoff agreement has been signed by the State of Maryland and Amtrak, that includes a $450 million commitment from the state's transportation agency for the tunnel replacement project.
A project labor agreement has been signed between Amtrak and the Baltimore-DC Building and Construction Trades Council, which is a local affiliate of North America's Building Trades Unions (NABTU), to cover the first phase of the project.
An agreement is in place between Amtrak and NABTU that ensures Amtrak's large civil engineering construction projects will be performed under union agreements. With this agreement, Amtrak and NABTU will not face labor-related delays in the planning and contracting of major projects.
The 150-year-old Baltimore and Potomac Tunnel is the oldest tunnel on the Northeast Corridor. The 1.4-mile tunnel beneath densely populated West Baltimore connects Baltimore's Penn Station to points south.
The tunnel is the largest Northeast Corridor bottleneck between Washington and New Jersey and a single point of failure for the nine million Amtrak and Maryland Area Commuter (MARC) passengers who rely on it annually. In other words, there are no detours possible if the aging tunnel were to unexpectedly close. The tunnel's tight curvature and steep incline requires trains to reduce speeds to 30 mph. These issues create chronic delays — more than 10 percent of weekday trains are delayed.
The Baltimore-Potomac Tunnel Replacement Program will build a new tunnel with two tubes along an alignment with softer curves; ventilation and emergency egress facilities; new signaling systems, overhead catenary, and track; five new roadway and railroad bridges in the area surrounding the tunnel; and a new ADA-accessible West Baltimore MARC station. The new tunnel will be named in honor of the civil rights leader and abolitionist, Frederick Douglass, a Maryland native and frequent railroad passenger after escaping to his freedom from slavery by boarding a train in Baltimore.
When the program is complete, speed and capacity improvements will help enable service growth and eliminate nearly seven hours of train delay for the average weekday. Capacity of the tunnel is expected to nearly triple, and trains travelling through the tunnel will be able to go a up to 110 miles per hour. By one estimate, replacing the tunnel would save nearly 450,000 hours per year for MARC and Amtrak customers.
The total cost of the program is expected to be approximately $6 billion, of which Bipartisan Infrastructure Law funding could contribute up to $4.7 billion.
Source: Read Full Article