Fall Of Bakhmut Won't Be A Strategic Setback For Ukraine: US Defense Secretary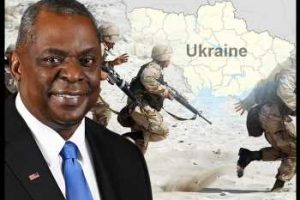 As Russian forces are continuing intense fighting to capture the eastern Ukrainian city of Bakhmut, U.S. Secretary of Defense Lloyd Austin said that if that happens, it cannot be considered as an operational or strategic setback for the Ukrainian military.
"I certainly don't want to discount the tremendous work that the Ukrainian soldiers and leaders have put into defending Bakhmut, but I think its more of a symbolic value than it is strategic and operational value," Austin told reporters in Amman.
The US defense chief is in the Jordanian capital as part of a three-nation Middle East tour.
"The fall of Bakhmut won't necessarily mean that the Russians have changed the tide of this fight," Austin said.
"It is more of a symbolic value than it is strategic and operational value," according to him.
"What I do see is the Russians continuing to pour in a lot of ill-trained and ill-equipped troops. And those troops are very quickly meeting their demise," Austin added.
After months-long fighting, Russian forces are said to be on the verge of taking control of the besieged city in eastern Ukraine.
Evacuations continue in Bakhmut.
Institute for the Study of War (ISW) said in its latest analysis of the war that Ukrainian forces may be conducting a limited fighting withdrawal in eastern Bakhmut and are continuing to inflict high casualties on the advancing mixed Russian forces.
"Ukrainian forces are likely conducting a limited tactical withdrawal in Bakhmut, although it is still too early to assess Ukrainian intentions concerning a complete withdrawal from the city," said the Washington-based research group and think tank.
It also predicted a likely Ukrainian counteroffensive as the Russian forces would "struggle with endemic personnel and equipment constraints".
Source: Read Full Article