How full Democratic control of Washington DC could transform real estate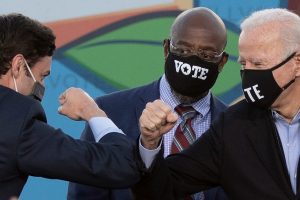 Joe Biden, the 46th president-elect of the United States, has a long list of housing plans that could transform real estate as an asset class.
Much of the legislation outlined by Biden's campaign appeared to be a longshot after the election, when Republicans seemed poised to retain the senate and block much of the agenda. That changed after two Democrats won senate seats in the January run-off election in Georgia.
Biden's plans portend big changes ahead for everyone from those seeking affordable housing to investors in real estate.
Visit Business Insider's homepage for more stories.
Before he was president-elect, Joe Biden had a long list of proposals with the potential to transform the real-estate industry.  His $640 billion, 10-year housing initiative was poised to affect everyone from those seeking affordable housing to real-estate investors.
After the November election, Republicans seemed poised to retain a majority in the senate, acting as a block on some or all of Biden's housing plans.
"Biden's housing plan is likely just a wish list unless the Democrats can wrangle control of the senate," Forbes Advisor reporter Natalie Campisi wrote in November. But after early January, the Democrats have got that control, sweeping both of the open senate seats in the special election in Georgia. 
Democrats have at least two years to take advantage of their majority, as 34 senate seats will be up for grabs in 2022.
Here's a rundown of some of the Biden housing initiatives that now have a clearer path to passage.
Creating more affordable housing