Is defunding the police 'Obamacare 2.0'? Democrats face dilemma with voters heading into 2022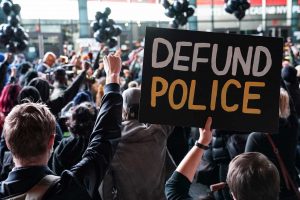 A protester holds a sign that reads "Defund Police" during a rally for the late George Floyd outside Barclays Center, Wednesday, Oct. 14, 2020, in New York. Demonstrators gathered on what would have been Floyd's 47th birthday to call for action in correcting systemic racism in policing and for criminal justice reform. (Photo: John Minchillo, AP)
Shortly after Rep. Val Demings entered Florida's closely watched 2022 Senate race, incumbent Sen. Marco Rubio went on the offensive.
The Miami Republican listed several criticisms of Demings, with the most salient assertion being that the congresswoman is a "far left liberal Democrat" who supports defunding the police. It's an attack he plans to repeat.
"Congresswoman Demings has turned her back on police officers in order to be accepted by radical left wing activists," Rubio told USA TODAY in a statement Monday. 
But Demings, who served as an Orlando police officer for more than 25 years, didn't let Rubio's claims go unchallenged.
Responding to the Republican's broadside, Demings' campaign simply shared a photo of the congresswoman decked out in her police chief uniform. She later told reporters that communities hit hardest by crime, namely Black and Hispanic communities, "don't want to defund the police, they just want to be treated with dignity and respect."

Defund police ally Tishaura Jones faces crime rate spike in St. Louis after being elected the city's first Black woman mayor on a reform platform.
USA TODAY
'Defund the police became very catchy … But it wasn't message tested'
Andra Gillespie, a political science professor at Emory University whose research focuses on post-Civil Rights leadership in African American politics, said the Milwaukee numbers parallel national data, which show a skepticism and confusion about what "defund" means.
"Blacks are more likely to perceive discrimination from the police, they're more likely to talk about having been personally discriminated against and I think we need to take that seriously," Gillespie said. "And they may even express greater skepticism of the police, but that is by no means a declaration of their being anti-police."
The Milwaukee survey, for instance, found 71% of Black respondents said they are treated differently than other races by police. Only 17% said police are doing an excellent or good job compared to 46% of whites.
The poll also showed Black Milwaukee residents have a vastly different view of police than their white counterparts. Black residents are less likely than white residents, by a 30 percentage point margin, to ask a police officer for help if they needed it. More than a third agreed police are "racist in the way they treat people." 
Gillespie said studies about the movements calling for stiffer police accountability found a diverse debate among organizers and activists. She said there was a greater appeal for calls such as "divest and invest" as the goal for changing law enforcement.
"Defund the police became very catchy and it was very attention grabbing," she said. "But it wasn't message tested. And had it been message tested, I think you might not have come up with something that might get a greater sense of what actually has more traction."
'We're not a monolith': Democratic 2020 autopsy sends warning about outreach to voters of color

From Trayvon Martin to George Floyd, the Black Lives Matter movement continues to highlight Black lives lost to police and racial injustice.
USA TODAY
Kevin Olasanoye, national political and organizing director for Collective PAC, which sponsored a study of the 2020 elections showing issues with Democrats' messaging, said the Milwaukee numbers are reminiscent of the 2010 fallout around former President Barack Obama's federal health care overhaul.
Polling during that period repeatedly showed parts of the Affordable Care Act – such as removing insurance barriers for people with pre-existing conditions – were popular with voters.
'This could end up … the defining issue of 2022'
Yet the changes were assailed by conservatives as a government takeover of the health care system, and it succeeded in many races when the law was attached to Obama and thus viewed less favorably.
"This is Obamacare 2.0," Olasanoye said. "This is Republicans using the term 'defund the police' as a way of turning what are fairly reasonable policy proposals into something that is scary for white voters specifically."
Olasanoye said Democratic strategists and campaigns have to become more aggressive about accentuating police accountability measures voters want rather than playing defense on a term they fear.
He said conservative attacks around police issues are being used to "demonize people of color, who are legitimately concerned about watching their kids and kids that look like them die on the streets at the hands of police."
Source: Read Full Article