New US Package To Strengthen Ukraine's Air Defense Capabilities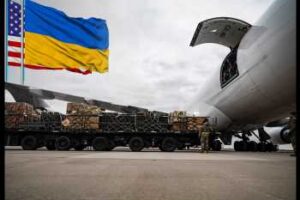 President Joe Biden has announced a new package of military assistance that includes significant air defense capabilities to help Ukraine protect its people from Russia's continued aerial attacks.
The $325 million arms package was announced just after Russia launched another wave of airstrikes against five cities in Ukraine that hit critical civilian infrastructure and knocked out power in many parts of the country.
The package includes additional ammunition for HIMARS systems that Pentagon has already provided, anti-tank weapons, artillery, ammunition, and more DPICMs to meet Ukraine's urgent needs on the battlefield.
The additional air defense munitions will help strengthen Ukraine's air defenses against aerial assaults from Russia now and in the coming winter, when Russia is likely to renew its attacks against Ukrainian critical infrastructure, U.S. Secretary of State Antony Blinken said.
These capabilities will help Ukraine harden its defenses ahead of what is likely to be a tough winter filled with renewed Russian attacks on Ukrainian critical infrastructure to try to deprive innocent people of necessities like heat and electricity, he said in a statement.
President Biden announced the latest round of U.S. security assistance during his meeting with Ukraine's President Volodymyr Zelensky at the White House.
Biden reiterated that the United States will continue to support Ukraine's defense against Russian aggression for as long as it takes and hold Russia accountable for human rights abuses and war crimes.
The United States is also coordinating sustained deliveries of short range air defense systems like the Avenger, longer range air defense systems such as the HAWK, and hybrid systems that pair Western air defense interceptors with existing Ukrainian systems, the White House said in a statement.
Biden told his Ukrainian counterpart that Abrams tanks will arrive in Ukraine next week, according to the White House.
In addition, the United States is committed to bolstering Ukraine's defensive capabilities in the long term, including through partnerships with Ukraine's defense industrial base. The U.S. government will host a conference of U.S. defense industry, Ukrainian business leaders, and officials from both governments to explore options for joint ventures and co-production this fall.
Both the leaders discussed U.S. support to Ukraine's energy sector and economic recovery. The two governments have signed a Memorandum of Understanding to strengthen Ukraine's energy resilience.
Biden introduced the new U.S. Special Representative for Ukraine's Economic Recovery Penny Pritzker, who will focus on engaging the private sector, partner countries, and Ukrainian counterparts to align support for priority investments and reforms designed to improve the business climate.
Thursday's meeting was Zelensky's sixth in-person with Biden, and his third visit to the White House during the Biden administration.
Source: Read Full Article