US Announces Sweeping Sanctions Targeting Russia's Key Sectors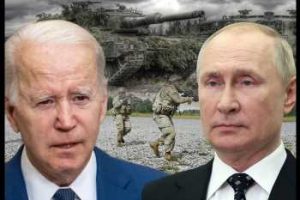 On the first anniversary of Russia's invasion of Ukraine, the United States announced a new range of sanctions targeting Russia's key sectors, holding it accountable for its war of aggression.
In coordination with G7 partners and allies, the Departments of the Treasury and State will implement sweeping sanctions against key revenue generating sectors in order to further degrade Russia's economy and diminish its ability to wage war against Ukraine.
This will result in sanctions being imposed on over 200 individuals and entities, including both Russian and third-country actors across Europe, Asia, and the Middle East that are supporting Russia's war effort, the White House said Friday.
As part of this announcement, the United States will target a dozen Russian financial institutions, in alignment with allies and partners, as well as Russian officials and proxy authorities illegitimately operating in Ukraine. The sanctions also target additional actors tied to Russia's defense and technology industry, including those responsible for backfilling Russian stocks of sanctioned items or enabling Russian sanctions evasion. It also includes the targeting of Russia's future energy capabilities in a manner that does not impact current production to minimize market disruption. The United States also is expanding its sanctions authorities to Russia's metals and mining sector, tailored to minimize market disruption.
The Department of Commerce listed nearly 90 Russian and third country companies, including in China among other countries, on the Entity List for engaging in sanction evasion and backfill activities in support of Russia's defense sector.
President Joe Biden will sign proclamations to raise tariffs on certain Russian products imported to the United States.
This will result in increased tariffs on more than 100 Russian metals, minerals, and chemical products worth approximately $2.8 billion to Russia. It will also significantly increase costs for aluminum that was smelted or cast in Russia to enter the U.S. market in order to counter harm to the domestic aluminum industry, which is being squeezed by energy costs as a result of Russia's invasion of Ukraine.
Today, the Department of Defense announced an additional security assistance package worth $2 billion for Ukraine.
Capabilities in this security assistance package include Unmanned Aerial Systems (UAS) and counter-UAS and electronic warfare detection equipment, as well as critical ammunition stocks for artillery and precision fires capabilities that will bolster Ukraine's ability to repel Russian aggression.
The package also includes a large amount of ammunition for 155mm artillery systems and High Mobility Artillery Rocket Systems (HIMARS) that have proved so effective on the battlefield, as well as mine clearing equipment and secure communications support equipment.
Source: Read Full Article