Alan Jones' protege launches 'manifesto'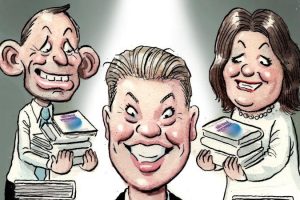 The past two years have been a whirl for Alan Jones' senior producer at Sky News, Jake Thrupp. The photogenic Sydney University politics graduate and political commentator for The Courier-Mail and Daily Express UK has enjoyed a quick ascent since swapping his home town of Kingscliff in northern NSW for Sydney and an all-encompassing gig working for his long-time family friend.
Jake Thrupp flanked by Gina Rinehart and Tony Abbott.Credit:John Shakespeare
But the sun-kissed assistant is about to step into the limelight in his own right. Next month, the 24-year-old will release his first book, Australia Tomorrow – his edited collection of 38 essays by luminaries of the conservative galaxy. Anyone who's anyone is here (except Cory Bernardi and Chris Kenny, whose FOMO must be excruciating). Even Nick Cater.
Contributors include Nationals leader Barnaby Joyce, political and swimming patron and Hancock Mining boss Gina Rinehart as well as crusading senators Amanda Stoker and Jim Molan and, natch, former prime minister Tony Abbott.
"I've got a firm belief that Australia looks tired," the Thruppster told CBD in his first major interview with a newspaper diary column. "I want this book to act as a manifesto for a future Liberal government that actually decides to do something," he said. Hello, Scott Morrison, are you reading this?
But it's more than a manifesto, Thrupp says. It's an opportunity to end a period in which he feels he's been unfairly cast as Jones' side-kick.
"There's been a lot of crap that's been written about me – and no one has ever really gotten in touch to ask – those columns were unfair, and weren't accurate, talking about trips to Tokyo – well, I was an employee of 2GB," he said.
Jake Thrupp alongside Alan Jones.Credit:Dominic Lorrimer
TWICE AS GOOD
Thrupp, who is best mates with Gen Z singing star Cody Simpson, was keen to assert his credentials. "I'm a political person, I love writing, I've been a member of the Liberal Party since I was 16," he said. Yes, Jones is his adviser, he said, but not his only mentor.
"Alan is my employer, and there's going to be people saying 'oh, Alan helped', but it would have been foolish of me to not seek his counsel … and I discussed it with him and Tony Abbott, who I'm quite close with, and [former ABC chair] Maurice Newman, and it was really only those three. They are a sounding board, and they all said, "go for it", so I sought out the publisher, I compiled the book."
Others sharing their thoughts include blink-and-you-missed-him Queensland premier Campbell Newman, premium remuneration tier economics columnist Lady Judith Sloan and Queensland MP Matt Canavan, whose chapter spruiking nuclear power is sure going to thrill the Prime Minister. In fact, Thrupp's roll-call of conservative thinkers was so impressive it demanded the book be introduced not once but twice. Former prime minister John Howard supplied the foreword, while Thrupp's Sky News colleague Peta Credlin wrote the preface. Doubly good.
MRS EVERYWHERE
It's been a lucrative half year for the busy corporate director and government advice giver Jane Halton. Crown Resorts just over a month ago elevated the Mrs Everywhere of corporate Australia from director to interim chair following the departure of Helen Coonan amid a Victorian royal commission into the gaming giant. But it wasn't the only new gig that Halton, a former secretary of the federal Health Department, has recently scored. In July, she joined the board of the Naval Group, the French company that held the $90 billion contract to build the Attack-class submarine fleet. Then two months later, it didn't.
Mrs Everywhere Jane Halton.Credit:Alex Ellinghausen
Also in July, the federal government picked the global expert in epidemic preparedness to lead a second national review of its quarantine arrangements. This month, we learned that that gig came with a generous pay day – $93,000 for the three month-plus contract. Not bad at all.
And then there's the role the famously plain-speaking Halton has repping the federal government on the international Quad leaders' vaccine experts working group, which wraps up in November. That gig carries a $98,000 pay day. And then there are director roles at ANZ and law firm Clayton Utz. A full plate indeed.
It's worth noting the Crown gig is hands-on. Halton attended 45, of a possible 46, board meetings in the 2021 financial year. For that role, she took home nearly $340,000 – which is now expected to grow with the interim chair gig.
She won't be there for long. Crown announced former Optus chief Ziggy Switkowski as the chairman-elect. Thing is, he needs probity clearance to officially step into the role. In past years and in the case of new directors including Nigel Morrison and Bruce Carter, that's a process that takes months. Carter was appointed in April and took his position on the board in late August. Halton should get comfortable in the meantime.
ALL CHANGE
There are big changes afoot inside the Administrative Appeals Tribunal. Although registrar Sian Leathem's contract does not expire until the end of April, the role is of such stature that the hiring process to replace the top-ranked legal administrator has already commenced. Salary: north of $400,000. Position status: highly sought after.
But as responsibilities include an annual trial by fire in Senate estimates hearings, that salary could be well-earned.
Outgoing Administrative Appeals Tribunal registrar Sian Leathem.Credit:Sydney Morning Herald
In May Leathem copped a grilling from Labor senators including Kim Carr and Murray Watt over a slew of Coalition appointments to the tribunal. To recap, it's not the registrar but the federal Attorney-General who makes the appointments to the AAT. But it's the registrar who inevitably gets it in the neck at estimates hearings. The Labor senators noted more than 70 AAT members with Coalition backgrounds, including party officials, donors and members. In Parliament, they listed former MPs Andrew Nikolic, Karen McNamara and De-Anne Kelly; and former senators Helen Kroger, Grant Chapman and Chris Puplick. Labor's spokesman for legal affairs, Mark Dreyfus referred last year to "an unprecedented orgy of political stacking".
To be fair, Leathem wasn't helped at the hearing by the fact that her former AAT executive director, Bernadette Ryan, had taken to social media ahead of the hearing to describe the institution as a "repository for LNP failures, staffers and mates".
On Wednesday, the AAT confirmed the job search. "The president is conducting an advertised merit selection process to inform his recommendation to the Governor-General for the appointment. The position has been advertised in Brisbane, Sydney and Melbourne," a spokeswoman said.
MORNING EDITION
The Morning Edition newsletter is our guide to the day's most important and interesting stories, analysis and insights. Sign up here.
Most Viewed in National
From our partners
Source: Read Full Article