Australia news LIVE: Voters support sending medical aid to Israel and Gaza; Rental affordability goes from bad to worse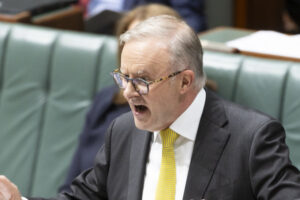 Save articles for later
Add articles to your saved list and come back to them any time.
Key posts
Rental affordability goes from bad to worse, with more to come
Israeli tanks outside Gaza hospital, medics and patients trapped inside
This morning's headlines at a glance
Steggall, Haines praise NACC but want more transparency
Independent MP Zali Steggall says she was pleased the government introduced the National Anti-Corruption Commission but there was more work to be done on transparency and accountability.
Steggall, who represents Warringah, told RN Breakfast this morning that she was upset there were not more provisions for a public hearing under the national anti-corruption body.
"From a transparency and see an integrity point of view, that is a gold star, but we're still at about a six out of 10 when it comes to transparency and accountability," she said.
Independent Zali Steggall has criticised Labor for rejecting a suggestion to force political parties to comply with privacy laws.Credit: Alex Ellinghausen
She said there was still not a better procedure around freedom of information requests and there were still prosecution of whistleblowers.
"I think we can still do a lot more and of course I want to see much better standards in political advertising," she said.
Fellow independent Helen Haines, who represents Indi in Victoria, said she was in lockstep with Zali in supporting the anti-corruption body.
"The fact that we've got more than 1500 referrals to the Commission already tells you that that's a commission that's very busy.
"So I would also agree, though, that the high functioning alleged corruption commission is contingent upon us having strong whistleblower protections."
Voters back aid, not arms, as protests fuel safety fears
Voters are in favour of sending medical aid to Israel and Gaza but are strongly against offering military help to either side of the conflict as protests at home fuel concerns that war in the Middle East makes Australia less safe.
Australians are split on whether to allow public protests about the conflict, with only 48 per cent in favour after weeks of concern about violence and racial hatred, while most voters oppose using public buildings to fly either the Palestinian or Israeli flag.
The exclusive findings came as Prime Minister Anthony Albanese defended Foreign Minister Penny Wong and her call for "steps towards a ceasefire" between Israel and Gaza, after her remark infuriated Jewish groups that believe a ceasefire would keep terrorist group Hamas in power.
Opposition Leader Peter Dutton slammed Wong's comment as "reckless" and challenged Albanese in question time about his support for a ceasefire, but the prime minister said Wong's remarks were in line with parliament's bipartisan condemnation of Hamas and support for civilian life.
Read the full story here.
Rental affordability goes from bad to worse, with more to come
Rental affordability has gone from bad to worse over the past year, deteriorating in nearly every capital city as the Reserve Bank warns rent inflation will remain high for some time.
The annual Rental Affordability Index from SGS Economics and peak body National Shelter found renters in each capital city were now worse off than before the COVID-19 pandemic in 2019.
Rental affordability is worsening across the country.Credit: Penny Stephens
The index, which compares rents to household incomes, shows previously affordable suburbs in cities from Melbourne to Brisbane would now strain the average household budget.
National Shelter chief executive Emma Greenhalgh said more households in the cities and regions were under rental stress and many places were the most unaffordable they had ever been.
Learn more about rental affordability here. 
Israeli tanks outside Gaza hospital, medics and patients trapped inside
Turning to the Middle East, Israeli tanks took up positions at the gates of Al Shifa hospital, Gaza City's main medical facility, the primary target in Israel's battle to seize control of the northern half of the Gaza Strip.
Israel says the hospital sits atop tunnels housing a headquarters for Hamas fighters using patients as shields, which Hamas denies.
Palestinians react as civilians, injured in Israeli raids, arrive at Nasser Medical Hospital on November 13, 2023 in Khan Yunis, Gaza. Credit: Getty
Gaza health ministry spokesperson Ashraf Al-Qidra, who was inside Al Shifa hospital, said 32 patients had died in the past three days, including three newborn babies, as a result of the siege of the hospital and lack of power.
At least 650 patients were still inside, desperate to be evacuated to another medical facility by the Red Cross or some other neutral agency.
Here's more detail on what's happening in the conflict.
This morning's headlines at a glance
Good morning, and thanks for your company.
It's Tuesday, November 14. I'm Caroline Schelle, and I'll be anchoring our live coverage for the first half of the day.
Here's what you need to know before we get started:
The public service and Services Australia will be bolstered as the federal government vows to deliver "robo-justice" to welfare recipients affected by the Coalition's unlawful debt recovery scheme.
Australians are split on whether to allow demonstrations about the Israel-Hamas conflict, while most voters are against using public buildings to fly either the Palestinian or Israeli flag.
A delegation of Victorian Indigenous leaders will bring their collective voice to Canberra for meetings with Prime Minister Anthony Albanese and senior ministers following the Voice to parliament's defeat.
Australia will establish the military equivalent of a free trade zone with the United States and United Kingdom under sweeping changes to the nation's defence export laws.
Data shows renters in each capital city are now worse off than before the COVID-19 pandemic in 2019, and rental inflation is expected to increase further.
Optus will front a fiery Senate inquiry into its network failure that affected 10 million customers at the end of the week.
Overseas, former US president Donald Trump denigrated his domestic opponents and critics during a Veterans Day speech, calling those on the other side of the aisle "vermin".
And former British Prime Minister David Cameron made a shock return to high office, becoming foreign secretary in a major shakeup of the Conservative government.
Let's get into it.
Most Viewed in National
Source: Read Full Article