Brexit news latest – EU firms REFUSE to deliver to UK claiming Brexit tax rules make it too expensive to deal with Brits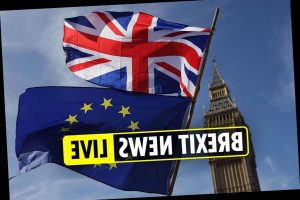 A NUMBER of EU firms are refusing to deliver products to the UK claiming post-Brexit tax rules make it too expensive.
Numerous businesses, including Bike Bits in the Netherlands and Begium's Beer on Web put notices on their websites saying they would no longer be able to justify serving UK-based customers.
"We are forced by British policy to stop dealing with British customers," the former said on its website, adding "not being able to send parcels to the UK does not work in any way in our favour and it is not what we wanted".
The news comes as several Brits were deported from Spain when officials claimed their papers were now invalid following Brexit.
Both the Spanish and British governments have said both the old Foreign National Identification (NIE) document and the new Foreign ID Card (TIE) remain valid.
Follow all the latest news and reaction to the end of the transition period in our live blog below…
Shayma Bakht


UK will be 'less safe' after Brexit, says former Met Police chief

The former Metropolitan Police commissioner says the UK may be more vulnerable now Brexit has complete and it has left the EU.  

This is in response to home secretary Priti Patel, who said the UK will be safer after leaving the bloc, and will have "even tougher powers".

Sir Ian Blair pointed out the UK had lost the European Arrest Warrant and a major EU database, which is used by British police more than 600 million times a year.

He told the BBC today: "We've lost powers. We've lost full access to Europe-wide, real-time, interrogatable databases on criminal records, DNA, fingerprints, criminal intelligence."

"The police have been quietly beating the drum, saying, 'This is going to make us less safe'. And I'm afraid that is what is going to happen."

Shayma Bakht

92% OF HAULIERS GETTING GREEN LIGHT TO PASS THROUGH PORT

Tom Talbot, head of customs operations for Dublin Port, said it will take time for drivers and hauliers to get used to the new post-transition period procedures – but says 92% are getting the green light to pass.

He said that if all the correct documents and declarations are in place, then drivers will get a green light that will allow them to pass through the port.

Mr Talbot said that up to 92% of drivers are getting green lights.

"We are seeing a little bit of more orange checks at the moment, but that's because it is bedding in, but you get your green and that's all you have to do."

Another official said that around 67% of rejected consignments from third countries have issues with their certificates.

Katie Davis

EASYJET TO SUSPEND SOME VOTING RIGHTS

EasyJet has begun moves to suspend the voting rights of some non-EU share holders in order to comply with post-Brexit airline ownership rules.

EU rules state that airlines must be owned and controlled by EU nationals – or else they would lose their licences.

The airline has saidthat investors from outside the EU would be restricted to controlling 49.5 percent of its shares – but it is currently 52.65 per cent by non-EU shareholders.

Airlines such as easyJet hope restricting voting rights will help them overcome Brexit issues.
Shayma Bakht

BIGGEST SHIFT IN EUROPEAN SHARE TRADING IN 20 YEARS

The biggest shift in European share trading in two decades were reported today – on the first day of business since Britain left the EU's single market, reports Reuters.

The Brexit deal did not cover Britain's finance sector, meaning London's automatic access to EU financial markets came to an abrupt end on Dec. 31.

That has meant the bulk of trading in euro-denominated shares has had to switch from London to the EU, as the bloc seeks to reduce its reliance on a finance centre outside its borders.

Shayma Bakht

POUND WEAKENED AGAINST EURO

The pound weakened versus the euro on Britain's first day of trading after officially leaving the European Union.

Experts warning the UK to implement tougher lockdown measures seem to outweigh the relief over the last-minute Brexit deal for traders.

Reuters report: "Sterling did strengthen against the dollar, even briefly breaking above $1.37 for the first time since 2018 in early London trading, but the move was more driven by dollar weakness than idiosyncratic sterling strength."

Shayma Bakht

BINS TO BE COLLECTED EARLY AMID BREXIT TRAFFIC FEARS

A local council in Kent told households to put their waste and recycling out an hour earlier due to concerns there will be widespread traffic disruption in the area as lorries attempt to cross the channel.

Those living in the channel flashpoint saw thousands of lorries stuck outside their homes trying to get into France a few weeks ago.

Ashford Borough Council announced its collections are being extended to 6am from today (Mon) – as Britain and the EU now operate under new rules for goods moving across the Channel.

Shayma Bakht

MANUFACTURING LEVELS GROW – BUT IS IT BECAUSE OF BREXIT?

Manufacturing levels grew faster in December than at any point in the last three years, according to new data.

The closely followed IHS Markit/CIPS Purchasing Managers' Index (PMI) hit a 37-month high of 57.5 in December, up from 55.6 in November – anything above 50 is seen as a sector in growth.

However, researchers have cautioned that the boost was primarily due to pre-Brexit stockpiling.

Shayma Bakht

FIRST MIGRANTS TO CROSS THE CHANNEL POST-BREXIT

THE FIRST migrants to cross the Channel since Brexit arrived on UK shores over the weekend.

One boat carrying around 10 people was intercepted and brought into Dover Marina, Kent shortly before 5am on Saturday.

Border Force towed the blue and white rigid hulled inflatable boat into the harbour before escorting the migrants up the gangway to be processed.

The men, wearing face masks, red lifejackets and wrapped in white blankets for warmth, appeared to be shivering from the bitter -1C temperature.

Shayma Bakht

WATCH: BORIS SAYS HE WILL STAY ON AS PM AFTER BREXIT

Boris Johnson says he will carry on as PM after Brexit
Shayma Bakht

FIRST BREXIT TEST FOR BRITAIN

Britain faced the first true test of its Brexit preparations on Monday, with thousands of lorries expected to make the Channel crossing for the first time since the country left the EU's single market and customs union.

Britain left the EU's institutions late Thursday, but light holiday season traffic has meant little work for border officials implementing new customs checks.

However, the government expects thousands of lorries to make the crossing on Monday, bringing goods to and from the continent and testing its plans to keep traffic flowing around key ports such as Dover.

The government, which has employed 1,000 new border officials, is phasing in the new customs checks, with full import control checks for all goods not to be implemented until July.

But it is concerned that truckers will turn up at Dover without the proper paperwork, causing delays at the port itself and blocking surrounding roads if they are turned away.

Shayma Bakht

STOCKS JUMP TODAY!

Britain's stock market jumped more than 1.5 percent on Monday, the first trading day since the country left the EU's single market and customs union.

London's benchmark FTSE 100 index rallied 1.54 percent to 6,560.33 points, having last traded on New Year's Eve ahead of Britain's formal departure.

In the eurozone, Frankfurt's DAX 30 rose 1.2 percent to 13,885.07 points and the Paris CAC 40 gained 1.3 percent to 5,625.44.

Shayma Bakht

WEST BROM FURIOUS AT NEW BREXIT RULES

West Bromwich manager Sam Allardyce says January's transfer window could be the toughest yet as he is limited by post-Brexit regulations and the COVID-19 pandemic while his side sit second-bottom with only eight points from 17 games.

New rules from January 1 say Premier League clubs cannot sign players from EU countries without a work permit, while under-18 foreign players cannot be signed at all.

Allardyce said: "I have found three players already who were capable of coming here and they're not allowed. It's a shame.

"Due to the new regulations in terms of the permit they were unable to come to this country, whereas (previously) they would have done. I have to look at that and think 'can he qualify?'"

"That has made life a bit more difficult. It's not so much the pandemic, it's the change of rules because of Brexit. We'll do what we can… finding a player in this pandemic is going to be the hardest window I have ever worked in."

Britta Zeltmann

BREXIT SAY ON 'SUPER THURSDAY'

Millions of voters will this year get their first chance to have a say on how politicians have handled Covid-19 and Brexit.

A bumper set of elections are to be held across Great Britain on "Super Thursday" – May 6 – including a number of contests postponed from 2020 because of the coronavirus pandemic.

Voters in Scotland and Wales will be choosing new parliaments.

In London there will be elections for the mayor and assembly, which were originally due to take place last year.

And across the rest of England voters will be choosing a mixture of councillors, local mayors, regional mayors and police commissioners.

The scale of "Super Thursday" means that every voter in Great Britain will be able to take part in at least one type of poll, making it the biggest event of its kind outside a general election.

Britta Zeltmann

BORDER FORCE

Thousands of lorries are today expected to make the Channel crossing for the first time since the country left the EU's single market and customs union.

Britain left the EU on Thursday night, but light holiday season traffic has meant little work for border officials implementing new customs checks.

The government now expects thousands of lorries to make the crossing today, bringing goods to and from the continent and testing its plans to keep traffic flowing around key ports such as Dover.

The government, which has employed 1,000 new border officials, is phasing in new customs checks, with full import control checks for all goods not to be implemented until July.

But it is concerned today that truckers will turn up at Dover without the proper paperwork, causing delays at the port itself and blocking surrounding roads if they are turned away.

Joseph Gamp

BOOST TO IRISH MANUFACTURING AHEAD OF END OF TRANSITION PERIOD

Irish manufacturing firms saw a boost to business in December ahead of the end of the transition period, according to an industry survey.

Demand accelerated to guard against a potential hard Brexit, the Purchasing Managers' Index (PMI) indicated. Suppliers' delivery times lengthened significantly as a result.

Oliver Mangan, AIB chief economist, said: "All five components of the PMI rose again in December for the second month running and all are well into positive growth territory.

"New orders increased strongly in the month, which translated into a marked rise in production. This was partly due to customers bringing forward orders with the Brexit transition period expiring at the end of the month.

"The same factor also saw manufacturers ramp up their purchases and stocks of inputs."
Joseph Gamp

WHAT'S CHANGED AFTER BREXIT – IN BRIEF

The UK is free to set its own trade policy and can negotiate deals with other countries – now that we're out of the EU.

Businesses who trade within the EU and holidaymakers will feel the effects now a Brexit deal has officially been struck and freedom to work and live between the UK and the EU has also come to an end.

In 2021, UK nationals will need a visa if they want to stay in the EU more than 90 days in a 180-day period.

EU migrants who come to Britain from January 1 will not be able to claim benefits – including Universal Credit – for five years.

Talks are being held with the US, Australia and New Zealand – countries that currently don't have free trade deals with the EU.

Joseph Gamp

PRITI PATEL PREPARED TO GIVE POLICE 'EVEN TOUGHER POWERS' FOLLOWING EU EXIT

Home Secretary Priti Patel has said she is prepared to give policing and security agencies "even tougher powers to keep this country safe" after the UK's exit from the EU.

Ms Patel talked up the post-Brexit trade and security deal that was hammered out as the clock ticked down to withdrawal from the bloc, insisting the UK would now be in a better position to protect its borders.

However, the EU has made it clear that under the agreement the UK would not enjoy the same level of "facilities" on policing and security issues as before. An EU briefing note said the UK would no longer have "direct, real-time access" to sensitive databases covering freedom, security and justice.

But the deal does allow for "effective co-operation" between the UK and the Europol and Eurojust policing and criminal justice agencies, in line with the rules for third countries under EU law.

Writing in The Sunday Telegraph, Ms Patel said the agreement "gives our police and security services the tools and partnerships to help keep the public safe.

"And having left the EU means we can give these agencies stronger powers to keep this country safe. That includes banning foreign criminals who have served more than a year in jail from entering the UK.

Joseph Gamp

TONY BLAIR COMPARES BREXIT TO 'SHOCK THERAPY'

Labour former prime minister Tony Blair said that decisions for Britain have always rested with the British people, as he compared Brexit to "shock therapy".

He said: "There is nothing that Brexit's going to do for Britain on its own. It's going to leave us economically weaker and with less political influence.

"And so the only way I make sense of Brexit is to treat it as shock therapy, that we then realise we've got to take certain big decisions as a country, we've got to set out a new agenda for the future, but that's going to be difficult to do.

"The truth of the matter is these so-called freedoms from European regulation that Brexit's supposed to give us, they don't really give us anything much at all.

"Because the truth is that decisions for Britain are and always have been resting with the British people and with the British government that they elect. But what it does mean, if we just carry on having the same old political debate post-Brexit as we had pre-Brexit, we're in a lot of trouble as a country."

Joseph Gamp

BRITISH NATIONALS REFUSED BOARDING ON SPANISH FLIGHTS OVER DOCUMENTATION

The Government is "working closely" with Spanish authorities to resolve issues over post-Brexit residency documentation, after British nationals were prevented from boarding flights back to Spain. Travellers at Heathrow airport were left "distressed" after being told by airlines that they did not have the correct proof of residency.

The Foreign, Commonwealth and Development Office (FCDO) said Spanish authorities had confirmed that both green residence certificates and the new documentation (TIE), along with valid passports, would be sufficient to travel back to Spain.

In an interview posted on Twitter by journalist Max Duncan, passengers on an Iberia airline flight said that they were "absolutely gutted" to be stopped at the airport, after being told that they would be allowed to travel.

"Brit residents of Spain distressed as can't fly home from @HeathrowAirport under #covid19 restrictions as @Iberia_en said their green residence certificate is not valid post-Brexit even though Spain's @inclusiongob and @FCDOGovUK say it is. Need clarity," he wrote.

Responding to the post, the British embassy in Madrid said: "This should not be happening. The Spanish authorities have reconfirmed again this evening that the green residency document will be valid for travel to return to Spain as stated in our travel advice."

Joseph Gamp

DAERA UNDERSCORES IMPORTANCE OF NEW RULES UNDER NORTHERN IRELAND PROTOCOL

A spokesman for the Department of Agriculture, Environment and Rural Affairs said: "As a result of the Northern Ireland Protocol, there are new processes in place for businesses and individuals moving animals, food, feed and plants from Great Britain to Northern Ireland.

"DAERA has been, and continues to engage with stakeholders to help them understand not only how to navigate the new systems, but what happens if there is non-compliance.

"DAERA is also engaging with the other agencies involved and seeking assurance that the new processes are being applied before hauliers arrive in Northern Ireland, so that delays are minimised.

"Northern Ireland's chief veterinary officer, Dr Robert Huey has made it clear that while he will apply a pragmatic approach in the first week, the expectation from that point, is that businesses must arrive at points of entry having completed all the necessary paperwork and notifications.

"We urge everyone to urgently familiarise themselves with the new procedures, documents and will continue to engage with stakeholders."

Joseph Gamp

NORTHERN IRELAND PARTIES REACT AGAINST ARLENE FOSTER AND BREXIT

First Minister Arlene Foster claimed nationalist parties in Northern Ireland had wanted a no-deal Brexit.

Sinn Fein's South Down MP Chris Hazzard said: "For those of you who aren't aware by now, Arlene Foster doesn't care much for facts; indeed I don't think she's ever been interested in the 'jot & tittle' of reality, so let's spell it out slowly. The DUP voted against every Brexit deal put to a vote at Westminster."

SDLP leader Colum Eastwood said his party was totally against Brexit.

He added: "The DUP championed it. Trying to wash her hands of the new Irish Sea border – no-one will fall for it.

"This is where the DUP have led unionism."
Joseph Gamp

NORTHERN IRELAND HAS 'GATEWAY OF OPPORTUNITY' FOLLOWING BREXIT, SAYS ARLENE FOSTER

Northern Ireland has a "gateway of opportunity" following Brexit, the First Minister has said.

Arlene Foster pledged to mitigate the worst effects of the protocol requiring checks on some goods coming from Great Britain.

The DUP leader said the country had left the EU's common policies on farming and fishing.

"What we have is a gateway of opportunity for the whole of the UK and for Northern Ireland and it is important that in this centenary year that we look forward to that and step through that gateway and take all the opportunities that are available for our people."

She told the BBC's Andrew Marr Show that Northern Ireland was out of the EU's customs union.

Joseph Gamp

NAVY WARSHIPS 'AN ACT OF DETERRENCE' FOR FOREIGN VESSELS

Former Navy head Admiral Lord West of Spithead has said the four navy warships in the Channel are an act of deterrence.

He added: "We are not trying to have a punch-up with foreign vessels. We are signalling that these are our waters and we are responsible for looking after them."

After Brexit, French and other EU boats may continue to fish in British waters — but a quarter of their quota will be transferred to the UK fleet over 5½ years.

A defence source said: "The plan was to have two offshore patrol vessels at sea and two in port and rotate them. But for day one of Brexit, the commanders wanted all four ships at sea as a show of resolve."

Joseph Gamp

BRITAIN'S NEW TRADE DEAL WITH TURKEY

Britain signed a bumper trade deal with Turkey this week as the Brexit trade deal kicked in an hour before the New Year.

Trade Secretary Liz Truss signed off a £18.6bn pact as Chancellor Rishi Sunak said the nation can now "do things a bit differently".

The deal with Turkey will provide a major boost for British car industry, manufacturing and steel industries and lays the groundwork for an enhanced relationship in the future.

Trade between the two countries was worth more than $25billion in 2019.

Joseph Gamp

WHAT DOES BREXIT MEAN FOR THE UK'S SECURITY?

Boris Johnson has told The Sun he is "absolutely confident" the deal "protects our police co-operation, protects our ability to catch criminals and to share intelligence across the European continent in the way that we have done for many years".

He added: "I don't think people should have fears on that score, or indeed on any score."

The PM said the deal would prioritise the "safety and security of its citizens" – and claimed it offers "streamlined co-operation" on law enforcement to bring criminals to justice.

The latest Brexit documents reveal the UK and EU will work together on security "when in their mutual interest".

Either side will be expected to share best practices and continue to cooperate, officials say.
Source: Read Full Article