Bricklayer who scooped £40m lottery jackpot built his own luxury house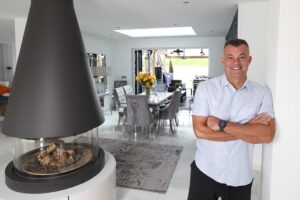 I built my dream lotto home during lockdown: EuroMillions bricklayer who scooped £40m jackpot reveals how he built his own luxury 6,000 sq ft house complete with an artificial lake, lodge and floating fireplaces
After winning £40m in 2012, Gareth Bull started work on his dream home in 2019
A bricklayer who scooped a £40million jackpot on the EuroMillions lottery has revealed how he built his own luxury house during as Britain was plunged into lockdown. 
Gareth Bull spent over a year building his 6,000 sq foot dream home, complete with an artificial lake filled with rehomed fish, an accompanying lodge and floating fireplaces.
The 52-year-old says the project, which also saw him install his very own swimming pool with programmable waves, kept him going as the country struggled through the Covid pandemic.
Mr Bull, who lives in Nottinghamshire, originally won the EuroMillions jackpot of £40,627,241 in January 2012, but didn't start work on his new home until 2019.
Now he's living the good life in his completed four-bedroom house, which has a sound system built into the ceilings, three bars and two hot tubs, and admits the effort he put in to finishing it has made it even more valuable.
Gareth Bull spent four years building his dream home after scooping a £40million EuroMillions jackpot. Pictured: Mr Bull in his open plan living and dining area
The 52-year-old even built an artificial lake and filled it with rehomed fish. Pictured: Mr Bull on a jetty over his the lake
The bricklayer spent over a year building his new home, working on the project through lockdown
Mr Bull said: 'The house is extra special because I did so much of the work myself, and during the pandemic too. 
'It helped me through lockdown, and I don't know what I would have done if I hadn't had this to work on. It was the perfect distraction with a great reward at the end of it.' 
During construction, Mr Bull 'decided to dig a small pond outside the house', which he expanded until it became an L-shaped 'fishing lake, the size of two tennis courts'. 
'I called it 'Lockdown Lake', made a little sign with its name on it and invited anyone who needed to rehome their fish to bring them here,' he said.
'Now, I have a couple of hundred fish, mainly goldfish and 10 koi carp and I call it my 'fish orphanage' because they've all been rehomed.' 
Mr Bull constructed 'Lockdown Lodge' alongside the house, complete with two bedrooms, a bathroom and a fully functioning kitchen. 
He bought the two-acre site with a three-bedroom bungalow in Nottinghamshire in December 2018 and began work on his dream house six months later. 
He said: 'Once I got the green light to go ahead, I started digging and just didn't stop. 
'The original bungalow sat on open land, so I knocked down half and lived in the remaining rooms so I could be on site and guard our tools. 
The lottery winner has installed three bars in the building after beginning work on the project in 2019. Pictured: Mr bull at one of his in-house bars
He has also installed a swimming pool that has programmable waves, as well two hot tubs. Pictured: Mr Bull sat outside next to his lake
The bricklayer says he moved into a caravan while the house was still a building site to make sure nothing went wrong with the project
'When the rest of the bungalow had to be knocked down, I moved into a caravan on the building site – much to the amusement of my friends.' 
Mr Bull helped dig out foundations and complete brickwork as the house began taking shape, but the construction was threatened by lockdown in March 2020. 
He said: 'I was living here on my own at the time, and I didn't know what to do, so I threw myself into work on the home, and it saved me from getting too lonely. 
'Lockdown rules allowed building sites to keep going, so eventually some of my builder friends came to help me, but this turned into my ultimate lockdown project.' 
Mr Bull said one of his favourite features of the main house is 'a remote-controlled system which runs my lights, curtains, music and ceiling speakers all from my phone'. 
He added: 'Meanwhile an 8ft projector screen pulls down from the ceiling so I can watch sport with my friends. 
'I installed two hot tubs – one by the house and a second log-burning hot tub from Scandinavia outside the lodge.' 
After more than a year-and-a-half of construction, he moved into his house on Christmas Eve 2020. 
'I had a massive 7ft Christmas tree. I wanted everything to be perfect when I moved in and it was,' he said. 
The EuroMillions Jackpot on Friday September 29 is £110 million. 
Source: Read Full Article