British diplomats robbed at knife point with during terrifying ordeal in Sudan | The Sun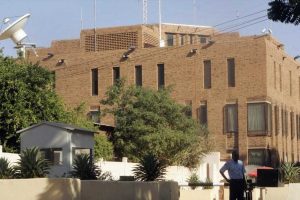 TWO Brit diplomats were robbed at knife point in a terrifying ordeal.
The officials – a man and a woman – were confronted in Khartoum, Sudan's capital, and had a knife pointed in their faces.
Local media reports initially said the pair had been held at gunpoint by a gang and an embassy car stolen in the incident.
According to reports the male and female diplomat were made to kneel on the ground while a knife was held to their face.
They had bags containing mobile phones and cameras stolen, it was reported.
But the Foreign Office said it was a just one attacker who carried out the robbery and no guns were used.
Read more world news
Parasailing boss facing probe over Brit deaths STILL taking tourists on trips
Husband tried to HANG me in 'private prison' where family held captive
An FCDO spokesman said: "We are aware of an incident in Khartoum. No one was hurt and those involved are safe.
"We are working with the Sudanese authorities in their investigation."
Source: Read Full Article