Caroline Springs brothers face court over $337 million alcohol fraud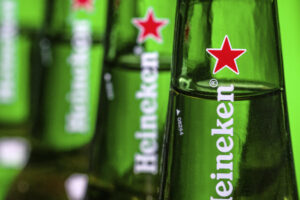 Save articles for later
Add articles to your saved list and come back to them any time.
Two brothers from Caroline Springs have faced court over their alleged role in an international smuggling syndicate that defrauded the federal government of $337 million, in an elaborate scheme involving the trade of alcohol.
Ramy Saad, 50, and Joseph Saad, 49, faced the Melbourne Magistrates' Court on Monday following a three-year joint investigation by Australian Border Force, Australian Federal Police and the Australian Tax Office, codenamed Operation Cabestro.
Australian Border Force have charged the brothers.Credit: Wayne Taylor
Australian Border Force officials served the brothers with charges on September 1, alleging they avoided paying duty on alcohol illegally brought into the country and then fraudulently claimed duty refunds on alcohol they exported between 2017 and 2019.
The ABF alleges the pair imported thousands of cases of alcohol at a time into Australia but declared it all as beer, which attracts a lower duty tax, when in fact there were also cases of spirits. They then sold the spirits on the domestic market.
"The men would import spirits and beer, pay the duty on wrongly declared goods at a reduced value, then remove the spirits, including gin, whiskey and vodka, and sell them," documents allege.
Police say the alcohol was imported from a Malaysian-based warehouse owned by a Portuguese businessman based in Singapore, and later exported to China, New Zealand, Singapore, Malaysia and Dubai.
ABF alleges the spirits were then sold on the domestic market.Credit: Jim Rice
Three warehouses in Ravenhall on Melbourne's western fringe were used to store the beer and spirits. The spirits were allegedly sold to several domestic wholesalers, who would sell the liquor to local retailers.
The beer was allegedly repackaged and falsely labelled as spirits before being sent back overseas, which allowed them to falsely claim a duty refund of $571,053.37.
Court documents allege the brands of spirits referenced by the pair in intercepted correspondence include Johnnie Walker Red, Smirnoff Red, Jack Daniel's, Jagermeister, Bundaberg and Jameson.
Remy Saad's lawyer, barrister Rishi Nathwani, said the volume of material compiled by federal investigators meant the defence needed longer to review the evidence before returning to court.
The pair will reappear in Melbourne Magistrates' Court next year.Credit: Darrian Traynor
"We will hopefully be in a position to be ready for the [next court date]," he said.
The court heard that the prosecution summary is approximately 100 pages. The brothers will next face court on February 2024.
Between September 20 and December 2, 2019, Border Force examined 24 containers of alcohol that were due to be exported by a company called VP Brands, which is co-owned by the Saad brothers.
"Although their contents were declared as various spirits, each container was found to only contain Heineken brand beer. The duty payable on the spirits not located in the examined containers is in excess of $23 million," according to an affidavit by AFP officer Mark Creighton.
Officers from ABF and the AFP raided the warehouses on December 11, 2019, along with the private homes of the Saads in Caroline Springs, where they seized computers, mobile phones and trade documents.
The AFP placed freezing orders over the three Ravenhall warehouses, the properties in Caroline Springs, an apartment block in Reservoir, an Essendon development site, several shops in Doreen and more than $15 million held in 12 bank accounts linked to the brothers.
An unsuccessful legal bid by the Saads to have the orders removed by the Supreme Court of Appeal in September 2021 revealed details of the alleged smuggling and customs fraud.
Another affidavit provided to the Court of Appeal revealed concerns about the transfer of funds within days of the AFP placing a restraining order on their assets.
Australian Border Force agent Marco Piscicelli alleged in an affidavit that $4,948,000 was transferred to Singapore via another company called Europeia Portugese Inter Commercio (Aus) Pty Ltd on December 11, 2019.
Piscicelli alleged there was a separate attempt on December 12 to transfer $11 million into a business transaction account belonging to the same company. That money has also been frozen by the AFP.
ABF acting superintendent Steve Orme, Regional Investigations Maritime and Enforcement South, said the charges against the Saad brothers sent a strong message to the community.
"We will not hesitate to investigate and prosecute allegations of serious fraud. These charges should serve as a warning to anyone considering taking part in criminal activities – you will be caught, and you will be held to account," Orme said.
Melbourne solicitor, Bill Doogue, who is representing the Saad brothers, declined to comment.
The Morning Edition newsletter is our guide to the day's most important and interesting stories, analysis and insights. Sign up here.
Most Viewed in National
From our partners
Source: Read Full Article