Chilling moment Brit jihadi, 19, stakes out cops while planning London terror attack before he was shopped by own mum | The Sun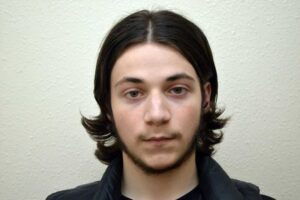 THIS is the chilling moment a teen jihadi stalked cops while planning a terror attack before telling his girlfriend: "Target acquired".
Matthew King, 19, carried out reconnaissance missions at a police station, train station and a London magistrates court.
The homegrown ISIS fanatic boasted about his bloodthirsty plans on Snapchat and told his girlfriend: "I just want to kill people".
King's murderous plots were only thwarted when his own mother shopped him to police over concerns for his radical behaviour.
He has now been jailed for life with a minimum term of six years after pleading guilty to preparation of terror attacks.
The Old Bailey heard how King became "self-radicalised" online during the Covid pandemic as he poured over ISIS propaganda.
Read more news
AI-enabled terrorism 'probably around the corner', expert warns
Family of women murdered say 'we can sleep safer' after terrorists killed
The former Christian ordered special ops clothing to his home in Wickford, Essex, and set up an account with store Knife Warehouse.
He also carried out "hostile" surveillance of possible terror attack spots and told his online girlfriend about his warped fantasies.
Chilling footage showed King staring at a group of police officers stood outside Stratford Magistrates' Court.
He had been staking out possible locations for his planned attack and shared an image of the officers on Snapchat with the caption: "Target acquired".
Most read in The Sun
Holly Willoughby's This Morning co-host revealed as she returns on Monday
Alison Hammond sobs over Schofield scandal & says 'what he did was wrong'
Phillip Schofield reveals how old his young lover was when they first met
If it hadn't been for daughters I wouldn't be here, says Phillip Schofield
The baby-faced jihadi also filmed short clips outside a police station and army barracks and updated his WhatsApp status to "Kill non-Muslims, wherever you see them".
King "actively desired" to travel to ISIS-ravaged Syria and vowed to attack Britain if his plans were disrupted.
He began chatting more and more to his web girlfriend, named as Miss A, who "encouraged" his increasingly brutal plans.
The teen told her "I just want to kill people" and revealed he wanted to "torture, mutilate and kill military personnel".
In discussions on chat forums, King expressed his desire to become a martyr and branded Osama Bin Laden a "great man".
The school dropout was reported to the Prevent counter-terrorism programme by his mum, who had noticed a change in his behaviour.
She said her son talked of "finding faith" and began to wear traditional Islamic clothing as he converted to Islam.
But King also displayed signs he had been radicalised – branding his sisters "s**gs" for their clothing and showing his mum extremist videos.
When he was arrested, King told officers: "I don't believe in the UK law, the only law I believe in is the law of Allah."
Judge Mark Lucraft praised his mum, saying: "She took the very bold step of alerting Prevent when she had concerns for her son.
"That cannot have been an easy thing to do in the first place and in my view she absolutely the right thing."
Commander Dominic Murphy, who leads the Metropolitan Police's counter terrorism command, said an attack was "imminent".
The chief said an atrocity was foiled thanks to calls to the Anti-Terrorist Hotline and local police from members of the public.
Read More on The Sun
B&M shoppers rushing to buy 'brilliant' £3 bargain to tackle bugs in summer
Mum shares her M&S freezer shop & there's a must-have item she can't live without
Source: Read Full Article