Cuomo expanding rapid COVID testing in bid to reopen restaurants, theaters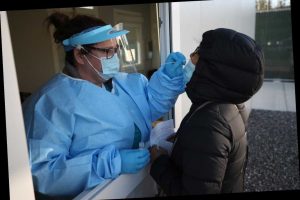 More On:
Coronavirus in NY
New York's COVID vaccine eligibility is expanding, Cuomo says
Shake Shack says COVID-19 is hitting its NYC locations the hardest
De Blasio: NYC could run out of COVID shots in 2 weeks
Citi Field to host 24/7 COVID-19 vaccination center
Go, Bills!
Spurred on by the success of rapid testing in getting 7,000 fans into Bills Stadium Saturday to see Buffalo's first playoff win in 25 years, Gov. Andrew Cuomo said New York will dramatically expand such quick testing sites in a bid to reopen restaurants, entertainment venues and other businesses.
During the second part of his four-day State of the State address Tuesday, Cuomo also launched an "Arts Revival" program that will feature "pop-up" performances by musicians and actors at outdoor venues throughout New York.
"Testing is the key to reopening our economy before the vaccine hits critical mass. Rapid testing poses great possibilities. It can be completed in as little as 15 minutes," Cuomo said in his virtually delivered speech.
"Because of New York's spirit of innovation, we have performed more COVID tests per capita than any state in the country. Now we will lead on rapid testing."
The governor noted the state Health Department conducted rapid testing on 7,000 Buffalo Bills fans so they could attend last Saturday's playoff game — a template for reopening indoor dining, theaters and business offices.
"All early indications suggest this model was successful, and it poses great possibility to reopen events to the public," Cuomo said.
He continued, "Why can't we use rapid testing to open restaurants in orange zones, theaters, offices? There are so many options."
Indoor dining is currently prohibited in New York City eateries because of the recent COVID-19 outbreak.
The real estate community will open additional coronavirus rapid testing sites where people can get tested before entering a business or engaging in a social activity.
"We will open hundreds of these new 'pop-up' rapid testing sites statewide to bring this effort to scale," Cuomo said.
In addition, property owners and other companies will reopen "COVID-safe" office buildings.
Major landlords with more than 100 million square feet of space have already agreed to offer testing services to all tenants in their buildings on a regular basis, he said.
View Slideshow
Source: Read Full Article