Daniel Khalife cops swoop on leafy London suburb and scour river after confirmed sighting of escaped 'terrorist' | The Sun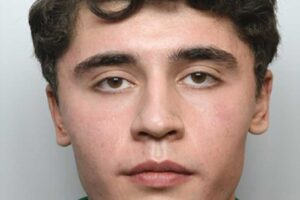 POLICE hunting escaped terror suspect Daniel Khalife are scouring a river as they swooped on a leafy London suburb after a confirmed sighting.
Metropolitan Police officers are searching the River Thames as they revealed this morning they are focusing their hunt for the fugitive around Chiswick, south-west London.
Sky News reported police were congregating around the Fuller's Brewery building and searching near the River Thames.
Officers were said to be inspecting cars around Church Street.
Police also revealed clothes they believe Daniel Abed Khalife could be wearing as they continued the huge manhunt for the fugitive.
Scotland Yard said in a new statement: "This activity comes after intelligence-led activity and some confirmed sightings in that area overnight, including calls from members of the public.
Read More On This Story
Live updates as possible sighting reported of escaped prisoner in Wandsworth
Terror suspect escapes jail after 'sneaking out of kitchen & clinging to van'
"Officers remain in the Chiswick area and are planning to carry out further intensive search activity there through the day.
"From reports received, Khalife is believed to be wearing a black baseball cap, black t-shirt and dark-coloured bottoms, and carrying a small bag or case.
"We urge members of the public in that area to remain vigilant and call 999 immediately should they see Khalife, or if they have any information that could assist the search.
"Whilst we advise members of the public not to approach Khalife if they see him, we still assess that he does not pose a threat to the wider public.
Most read in The Sun
LEGEND LOST
Telly impressionist Mike Yarwood dies age 82 after career spanning decades
wynne win
Celebrity MasterChef fans all have the same complaint as winner is revealed
FREDDIE RETURNS
Freddie Flintoff seen helping to coach England nine months on from crash
CLOSING IN
Cops confirm first sighting of escaped 'terrorist' as police offer £20k reward
"A further update will be provided in due course."
Former soldier Khalife has been on the run since fleeing HMP Wandsworth in south-west London on Wednesday under a food truck.
Scotland Yard launched a massive manhunt, with a £20,000 reward offered for information.
The latest developments came after Khalife's family urged him to "give himself up".
He has been described as a "loner" obsessed with computer game Call Of Duty.
Khalife had been stationed at the Ministry of Defence's Beacon Barracks in Stafford, as part of the 22 Signal Regiment.
He was supposed to be working in Wandsworth prison kitchens when reportedly sneaking out and strapping himself below a delivery lorry.
Prison chiefs have been branded "a laughing stock" over his escape.
The Sun revealed he had specialist military escape and evasion training from his time in the armed forces.
It was alleged prison officers did not tell cops he had escaped until an hour after he vanished.
And an inmate who worked with him said Khalife insisted he was "going to be famous".
Airports and ports were placed on high alert as anti-terror police tried to prevent him leaving Britain.
Khalife was charged over a bomb hoax incident at an RAF base and allegedly collecting information which would have been "useful to a terrorist".
He joined the Army in 2019 but was kicked out in May after being accused of planting a fake bomb.
Khalife has denied the charges against him.
A Chiswick resident said today he was going to keep his "eyes peeled" for Khalife.
Will Lewis lives on Chiswick Lane South where the police are searching for the former soldier.
The 23-year-old said: "I heard he had been seen around west London and we have all said he could be around here.
"We saw the description of him so we are going to keep our eyes peeled. It's clearly developing quite quickly.
"It's a really nice area. There are lots of people just going about their daily lives, running.
"It's very safe – I have never seen any disturbance around here. It is usually quiet as well."
Police have been stopping and checking cars in Chiswick, asking residents for their IDs and looking in the boots of vehicles on Church Street and Chiswick Lane South.
Armed officers have also been searching along the area, while a police boat was seen on the Thames nearby and police dogs were also at the scene.
But police later appeared to have scaled back their search, with a number of police cars leaving the scene as the area became busy with runners and dog walkers.
Chiswick resident Brenda MacDonald, 78, told of seeing "loads of vans" and helicopters as police searched the surroundings.
Read More on The Sun
Ex paramedic reveals five popular foods you should never give kids under 5
Huge star to front Asda's Christmas ad after signing mega-money deal
She said: "I guessed it was something to do with Khalife because of him landing in Wandsworth. It is not far to get here.
"They have got to catch him because it was silly enough that they let him get out."

Source: Read Full Article