'Deep Freeze Britain' braces for up to 10in of snow TONIGHT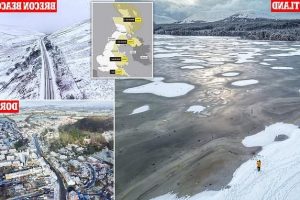 'Deep Freeze Britain' braces for up to 10in of snow and sub-zero temperatures TONIGHT after major incident was declared on day where treacherous ice brought chaos to road and rail commuters
Some areas of the UK could see up to 10inches of snow fall on Wednesday night
The Arctic blast that has chilled Britain is set to continue for a few more days
Officials in Somerset have declared a major incident due to fears of flooding
The Met Office is warning travellers to be careful as icy conditions take over
Parts of Britain are bracing for up to 10inches of snow and sub-zero temperatures tonight as a bitter Arctic blast continues to hit the country.
Government officials have declared a major incident as people struggle to get to grips with treacherous ice on the roads, with traffic accidents up and down the UK.
In Somerset officials warned there was a risk of flooding in addition to yellow snow and ice warnings that have been put in place across many areas. 
And the UK Health Security Agency (UKHSA) has issued a level three cold weather alert, warning people to check on vulnerable love ones and neighbours during the freezing conditions. 
Walkers trek along the frozen shores of Loch Morlich in Aviemore, Scotland, on Wednesday, January 18
A man pulls a child on a sled as they walk through snow in Carrbridge in the Cairngorms on Wednesday
Forecasters are predicting that up to 10inches of snow could fall in parts of Scotland tonight, adding to 13inches that fell in some areas last night.
Yellow weather warnings will be in place across most western parts of the UK, Wales and the north of Scotland until 12pm on Thursday.
A major incident was declared in Somerset due to the risk of flooding across the county. Enhanced pumping began on Tuesday evening at Northmoor to reduce the amount of water being stored until river levels allow pumping to resume at Currymoor, which remains full.
The decision to declare a major incident is precautionary, public agencies say, so that they can be ready to take action if the situation worsens.
Members of the public have been warned to expect longer journey times by road, bus and train as well as some disruption due to the risk of ice and snow.
The town of Bridport in Dorset was covered by a light dusting of snow when residents woke up on Wednesday morning
A family take a photo while walking through the snow-covered woods at Loch Morlich in Aviemore on Wednesday
A 4×4 makes its way along the icy road near the Cray Reservoir in the Brecon Beacons on Wednesday
The Met Office has issued yellow snow and ice warnings for western areas of the UK, as well as high-lying parts of Scotland
Members of the public have been reminded to check conditions before they travel. 
There was chaos on the roads this morning as a gritter was sent sliding into a hedge between Caton and Lancaster, while a road between Thirsk and Northallerton in Yorkshire was closed following a crash.
Cars were also filmed sliding down a hill in south Wales as drivers struggled to cope with the icy conditions.  
Some communities were warned they face power cuts due to the snow, while the Met Office also issued yellow weather warnings across swathes of the UK including London, the South East, the South West, Wales, the North West and most of Scotland.
It said the bitter weather is due to last into tomorrow. 
Met Office chief meteorologist Paul Gundersen said: 'Cold air is continuing to push across the UK from the north and many areas have seen some snow, wintry conditions, and overnight frosts. 
'National Severe Weather Warnings have been issued across parts of western England, Wales, Northern Ireland, and Scotland with more warnings likely to be issued over the coming days.' 
A car sits damaged in the middle of the road in Horwich, Greater Manchester, after a crash on Wednesday morning 
A car in Stoke-on-Trent is covered in snow later on Tuesday night as heavy snow falls on the city 
Major incident declared in Somerset over flooding fears
A major incident has been declared in Somerset due to the risk of flooding in the county.
The Environment Agency announced the move, which it described as 'precautionary', on Wednesday morning.
The agency said it was responding to flooding incidents in Somerset, flood risk in the Bristol Avon area. It said it was monitoring rising groundwater levels in Dorset.
Ian Withers, from the Environment Agency, said: 'The sight of water on the Somerset Levels and Moors is obviously a concern to those who have suffered from flooding before.
'Our staff continue to work to the best of their abilities to protect people and properties, install pumps and engage with communities.
'The situation is expected to improve when enhanced pumping begins and we continue to run the Sowy flood relief channel. It is prudent to plan for the worst and going into major incident mode is appropriate, so we coordinate with partners and everyone is ready to respond if needed.'
David Renard, transport spokesperson for the Local Government Association, said: 'As temperatures start to plummet once again, councils are ready to work around the clock to grit roads and pavements to make sure that people are kept safe and local communities can get out and about. 
'Councils have stockpiled 1.4 million tonnes of salt and are using new and innovative technologies where they can to ensure those areas that are most treacherous are kept clear and safe for use. 
'During these cold spells, it is those who may be elderly or who have a respiratory disease who are at more at risk of ill health and are in need of more support. As some people may choose to limit their heating use due to the impact of rising energy bills and so councils are again people to check up on those that may need more help. It could help save lives.' 
Erika Radford, Head of Health Advice at Asthma + Lung UK said: 'We know that plummeting temperatures can be a real worry for people with lung conditions because it can trigger potentially life-threatening asthma attacks and cause other lung conditions to get significantly worse. 
'Where possible, we would advise people with a lung condition to heat their home to at least 18C in the cold weather, although we realise this will be a challenge for many this winter. 
'There are other steps that people can take to protect their lungs during a cold snap. For instance, it is better to wear several layers of clothes rather than one bulky layer as these trap heat next to the body more effectively; it is also important to have plenty of hot drinks and at least one hot meal a day. 
'It's crucial that people stay warm to avoid emergency hospital admissions and severe respiratory infections. 
'As viral infections can also make your lung condition worse, it's best to avoid contact with people who have flu or a cold if you have a lung condition, and it's important that you continue to take daily medication as prescribed. For more advice on how to keep well in the cold visit Asthma + Lung UK.' 
A brave swimmer stands on the banks of the River Cam after having a quick morning swim despite the cold
A swan stands on a frozen pond in Wimbledon Common in south London this morning 
Dolwyddelan Castle at the foot of Snowdonia National Park was covered in frost and snow 
A roadside hedge has been turned into a stunning ice sculpture after water sprayed by passing cars froze on its branches
Drivers have been stopping to take photos and admire the hedge near Ringwood, Hampshire
The Met Office warned commuters to leave extra time for any journeys. 
The forecaster also said journeys had been made more difficult due to the conditions and urged drivers to take care on the roads.
It added that ice on the pavement also posed a risk to pedestrians. 
The cold snap across the UK is expected to last until the end of the week, and temperatures could plummet as low as -11C in places. 
In Hampshire, a roadside hedge was turned into a stunning ice sculpture after the water splashed over it by passing cars froze into icicles. 
Passing motorists have been pulling over to look at the hedge and take pictures of the incredible sight.
One driver said: 'I was driving past and I just had to stop.
'It looked like something you see in a nature documentary set in the Arctic narrated by David Attenborough.
'I saw other people slowing down as they drove past to take pictures too. It's just amazing.'
Farmer carries nurses to patient on his tractor after their car becomes trapped on snow-covered road 
A heroic farmer used his tractor to carry two nurses to a patient when their car was stranded on a snow-covered road.
Farmer Gareth Wyn Jones said the routes around at Llanfairfechan in Conwy, North Wales, were dangerous for drivers because of the snowy conditions.
Mr Jones came across two nurses struggling to reach an elderly patient in the village when he offered to help.
Farmer Gareth Wyn Jones said: 'I put the two nurses in the tractor and they enjoyed the little journey and the trip up there'
'I put the two nurses in the tractor and they enjoyed the little journey and the trip up there,' he said.
'It's quite treacherous on the roads to be honest.
'We had a few incidents yesterday and last night in the village.'
Motorist Jon Terry described how he flipped his car on black ice in Pendoylan, South Wales, while taking his five-year-old son to school.
'I was driving about 15 or 20 miles an hour, pretty slow, and I saw a car up ahead.
'It's a single track lane and you have to give way or reverse to make space.
'The other car was stopped so I put the brakes on and then all of a sudden the back end of my car swung round to the right.'
Mr Terry said the front of the car flipped up and the car ended up on its side in a hedge.
'Then just all the airbags went off, there was smashed glass all over me and I slid a bit down the road,' he said.
A road was also closed in Merthyr Tydfil, South Wales, when a 200-ton landslide covered the route. No one was hurt.
Source: Read Full Article