Elianne Andam tragedy: Teen, 17, appears in court charged with murder after girl, 15, knifed to death in Croydon | The Sun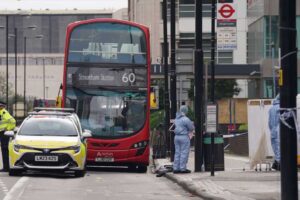 A TEENAGE boy has appeared in court charged with murder after a girl was knifed to death.
The 17-year-old was arrested after Elianne Andam, 15, was wounded in the neck in Croydon while intervening in a row between a pal and her ex-boyfriend on the No60 double-decker bus.
The teenager appeared before Croydon Magistrates' Court today and was remanded in custody to appear at the Old Bailey on October 3.
He is charged with murder and possessing a knife and cannot be named for legal reasons.
Police recovered a knife in Cedar Road, south London, yesterday.
Last night, Elianne's devastated mum Dorcas Andam visited the bus stop where her daughter had been killed.
Read more News
KNIFE CHARGE
Teen boy, 17, charged with murder after girl, 15, knifed to death at bus stop
Weeping relatives were seen emotionally embracing with their arms wrapped around one another.
The group were joined at the scene by the leader of a local church, as well as James Watkins, the leader of the Mainzworld community group.
Standing alongside Elianne's friends and family, Bishop of Croydon Rosemarie Mallett said: "I am here to make a statement on behalf of the family written by the family.
"We, as a family are struggling to comprehend this painful tragedy that has happened to our beautiful daughter and beloved sister Elianne.
Most read in The Sun
LONE SICKO
Neo-nazi gunman kills 3 including girl, 14, & mum after opening fire at hospital
CHAMP CLEARED
Ex-World boxing champ cleared of sex assault after 'calling waitress "pet"'
CON-STABLE
Top cop faces probe after wearing Falklands medal despite being 15 during war
ON THE COBBLES
TV legend joins Corrie and you might recognise him from classic sitcom
"Our hearts are broken. And we are overwhelmed by sorrow and grief our faith in the Lord is strengthening us.
"We would like to express our gratitude to those who have taken the time to send us thoughtful and compassionate messages and prayers.
"We kindly ask for your consideration to also respect our need for privacy as we attempt to come to grips with our deeply devastating loss.
"Elianne was a beautiful person inside and out who loved Jesus.
"She was intelligent, thoughtful, kind and had a bright future ahead of her."
They left at least five bouquets of flowers before hugging and returning to cars and a minivan which brought them from the family home less than half a mile away.
Meanwhile, Elianne's friends were "sobbing" and "so emotional" at Old Palace of John Whitgift School on Thursday.
Donna Murray-Turner, chairwoman of the local Safer Neighbourhood Board, said she read messages in a book of condolence and they "talk about her laugh".
READ MORE SUN STORIES
TAKE NOTE
I'm a cleaner, 5 things I'd never put in my house – including a kitchen handle
Back to normality
Paris Fury shares sleepy selfie & baby update after day of 'normal life'
She added: "Staff, teachers, talked about when she entered a room you knew she was there.
"And her friends, as you can imagine, were sobbing. They were so emotional."

Source: Read Full Article