Ex-Michigan Gov. Rick Snyder to be charged in Flint tainted water scandal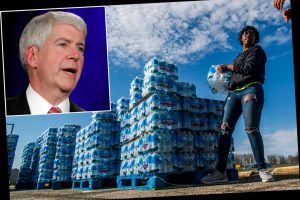 More On:
Flint, Michigan
Michigan reportedly reaches massive settlement in Flint water crisis
18-year-old charged for assaulting Macy's staffer caught on viral video
Rapper who filmed Macy's beatdown of white man says attack was 'instinct'
Cops probing whether Macy's beatdown was possible assault
Former Michigan Gov. Rick Snyder and top officials in his administration have been indicted in the Flint water scandal that led to a deadly outbreak of Legionnaire's disease, according to a report.
Snyder, who was in office when the state's decision to alter the city's water supply in 2014 flooded largely minority neighborhoods with lead-tainted water, will be charged by the state attorney general, the Associated Press said.
Sources close to the investigation told the wire service that Snyder's former health department director, Nick Lyon, will be among those charged "soon" in the scandal.
State prosecutors are mum on the details, but agency spokeswoman Courtney Covington Watkins said investigators are "working diligently" on the case and "will share more as soon as we're in a position to do so."
Snyder left office two years ago.
While he was still in the statehouse, state management officials in 2014 switched Flint's water supply to the Flint River as part of a cost-cutting measure while a new pipeline was being built to Lake Huron.
But the water was not treated, leading to lead-tainted water being pumped into the homes of nearly 100,000 residents in the largely-black city.
Bacteria in the water is also blamed for the Legionnaire's outbreak that infected at least 90 people and killed 12 in Genesee County.
Snyder and Lyon announced the contamination in January 2016, although Lyon admitted that he knew about some of the cases months earlier.
Reports also suggested that Snyder knew of the tainted water at least three weeks prior to making the announcement.
The controversy prompted a $600 million settlement last year with residents sickened by the tainted water supply.
Lyon and seven other officials were charged with involuntary manslaughter in the case, but charges were later dropped amid confusion over the case.
The case, which gained international headlines and became a test case for municipal mismanagement, remained largely out of the public eye until word of the new indictments surfaced on Tuesday.
Snyder's attorney did not respond to a request for comment from the Associated Press.
With Post wires
Share this article:
Source: Read Full Article