Female journalist 'kidnapped by Russian spies' in Ukraine just days after car was shot at near besieged city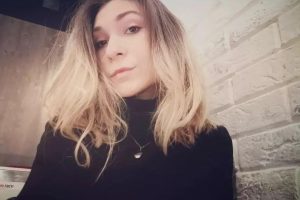 RUSSIAN spies have reportedly kidnapped a young Ukrainian journalist just hours after her car was shot at.
Victoria Roshchina, who had been reporting from the frontline in eastern and southern Ukraine since the start of the conflict last month, was allegedly taken by the Russian Federal Security Service (FSB), her colleagues said.
Ukrainian publication Hromadske, for whom Victoria was working, said they were told on March 16 that she had been detained by the Russian FSB the day before.
Nothing is currently known about her whereabouts, and the publication has called on the international community to help uncover more information that could lead to Victoria's release.
Just before her alleged kidnapping, Victoria had been preparing materials about Russian troop movements in Zaporizhzhia and Donetsk regions.
Earlier, she had been in Energodar near Zaporizhzhia, where Russian forces had seized Europe's biggest nuclear power plant.
Read more on Ukraine
Moment Russia fire hypersonic missile 'destroying Ukrainian weapons depot'
Fifth Russian general 'killed' as Ukraine forces 'shoot down five planes'
She was planning to travel to the besieged city of Mariupol, where hundreds of thousands are without water, heating, or power when her colleagues lost contact with her.
Witnesses claimed she was last in the port city of Berdyansk, 45 miles southwest of Mariupol, on March 12.
Hromadske's editorial office said in a statement: "We have made every effort to release the journalist in a private matter. But it turned out to be ineffective.
"Therefore, we call on the Ukrainian and international community to join in the information and actions to the release of Hromadske journalist Victoria Roshchina."
Most read in News
DEATH FROM ABOVE
Moment Russia fire hypersonic missile 'destroying Ukrainian weapons depot'
WFH is a national scandal and an affront to long-suffering taxpayers
Dramatic moment knife-wielding thug knocked down by police car as he lunges at cops
Shocking moment driver opens fire from behind wheel as BMW 4×4 tears down street
In Victoria's most-recent Facebook post on March 8, she wrote: "I will never forgive Russia."
She described how she came across a "column of Russian tanks" in the Zaporizhzhia region.
"On the road, I saw a burned car, a little further – another with a burnt body of a man next to me."
She said the killings had taken place in a small village.
Suddenly, they saw a column of Russian tanks with the distinctive white Z symbol on them.
It comes as…
Russia has fired deadly hypersonic missiles in Ukraine for the first time since the start of the conflict
Putin held a huge military rally in Moscow, but it was mysteriously cut off during the president's speech
Russia has lost a fifth top general in fighting near Kherson, in a further blow to Putin's forces
Russian troops' morale is "collapsing", according to a UK military expert
Hundreds are still feared trapped under the ruins of a theatre in Mariupol bombed by Russian forces
Video captured the moment Ukrainian laser-guided missiles blew up Russian tanks
An increasingly-paranoid Putin is said to fear he will be "poisoned" as he purges his staff
Victoria claimed the Russians fired on their vehicle, despite having a clear sign reading 'Press' on it, forcing them to abandon the car and lie down hiding in a field, before eventually being rescued by civilians.
She said when she returned to her car, her laptop, camera, backpack, and cigarettes had all been taken, and they tried to escape on foot in the dark.
"The scariest thing in the occupation is the night," she said.
Denouncing the Russians, she added: "In small villages and cities, the invaders feel themselves 'heroes' – shoot at civilians, set fire to cars, kill, loot.
"They turn people's lives into hell, traumatising children's psyche. They've taken my tech, but they won't take away the desire to tell the truth of their crimes.
"This time I was probably saved by a miracle. But I will never forgive Russia. Never.
"They will burn in hell. And will definitely be brought to justice."
Reports claim a number of prominent Ukrainians have been kidnapped by Russia since the war began.
At least two city mayors have been taken in recent weeks.
Earlier this month, Ivan Fedorov, mayor of Melitopol near Zaporizhzhia in southeastern Ukraine was kidnapped.
He was filmed being dragged away by Russian forces with a bag over his head, sparking a massive street protest from brave Ukrainians.
Ukrainian MP Lesia Vasylenko said the Russians were using "terrorist tactics to install puppet regimes at a local level".
the country's parliament says he "refused to cooperate with the enemy" and was abducted at the southern city's crisis centre, where he was dealing with supply issues.
Read More on The Sun
Moment Russia fire hypersonic missile 'destroying Ukrainian weapons depot'
The 9 things functioning alcoholics say when hiding a secret addiction
Fedorov was later freed last Wednesday as part of a prisoner exchange deal with nine captured Russian prisoners of war.
Last week, the mayor of Dniprorudne, also in Zaporizhzhia state, Yevgeny Matveyev was snatched.
Help those fleeing conflict with The Sun's Ukraine Fund
PICTURES of women and children fleeing the horror of Ukraine's devastated towns and cities have moved Sun readers to tears.
Many of you want to help the five million caught in the chaos — and now you can, by donating to The Sun's Ukraine Fund.
Give as little as £3 or as much as you can afford and every penny will be donated to the Red Cross on the ground helping women, children, the old, the infirm and the wounded.
Donate here to help The Sun's fund
Or text to 70141 from UK mobiles
£3 — text SUN£3
£5 — text SUN£5
£10 — text SUN£10
Texts cost your chosen donation amount (e.g. £5) +1 standard message (we receive 100%). For full T&Cs visit redcross.org.uk/mobile
The Ukraine Crisis Appeal will support people in areas currently affected and those potentially affected in the future by the crisis.
In the unlikely event that the British Red Cross raise more money than can be reasonably and efficiently spent, any surplus funds will be used to help them prepare for and respond to other humanitarian disasters anywhere in the world.
For more information visit https://donate.redcross.org.uk/appeal/disaster-fund
Source: Read Full Article