Following Trump's cue, Brazil's Jair Bolsonaro clouds vote with fraud claims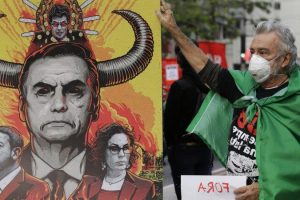 Brasilia: Brazil's presidential election is 15 months away, yet barely a day passes without President Jair Bolsonaro raising the spectre of fraud and warning that he will be entitled to reject the results unless Congress overhauls the voting system.
He has mentioned potential vote fraud more than 20 times in the past two months and even floated the idea of cancelling the election altogether.
"I don't mind handing over the government next year, to whomever it is, but with an honest vote, not with fraud," Bolsonaro told supporters July 1 outside the presidential residence. Later that day, he was harping on the issue again. "They say I don't have proof of fraud. You don't have proof that there's no fraud either!"
President of Brazil Jair Bolsonaro is already claiming election fraud. Credit:Getty
The relentless attack on Brazil's electronic voting system has prompted an outcry and closed-door meetings between lawmakers and Supreme Court justices to defend the system. And the nation's electoral tribunal last month ordered the president to provide proof of the fraud he has repeatedly claimed to possess, but so far hasn't presented.
The assault also raises concern that Bolsonaro, who is far behind in early polls, is cribbing from former US President Donald Trump and laying the groundwork for his own version of the January 6 Capitol riot in Washington.
"His strategy seems to be that if he can cloud the results of the election by claiming it is fraudulent or rigged, then he has a better chance of overturning the results," said Robert Kaufman, a professor of political science at Rutgers University, whose research has focused on democracies and dictatorships in Latin America.
Brazil's electoral tribunal organises and oversees elections, not the executive branch. The president's press office did not immediately comment on whether he will present evidence of past electoral fraud, with the deadline looming in August.
At Bolsonaro's order, his administration has tasked the federal police with scouring Brazil's states for reports of fraud from the past 25 years he can use to support his claims, according to one of his ministers. It is also part of his strategic response to opponents of a constitutional reform proposal that would add printouts of each vote to the electronic system, the minister said.
Were the proposal implemented, a receipt for each electronic vote would be visible to the voter before being deposited into a sealed ballot box. In the event of alleged irregularities with the electronic vote, the president argues, results could be checked by manually counting the printouts.
Opponents of the proposal, including the current and future presidents of the electoral tribunal, all three of whom are also Supreme Court justices, say the electronic system that began taking shape in 1996 already allows for an audit and that the change would merely open the way for baseless fraud claims.
The tribunal's president, Justice Luís Roberto Barroso, has been on a mission to quash the proposal in the congressional committee that is expected to vote on it next week. Last month, he and two other Supreme Court justices met with more than 40 politicians from across the political spectrum to prevent the bill from advancing.
The printed vote is a "risky solution to a problem that does not exist," Barroso told The Associated Press. He said it increases the risk of coercion and breaches of vote secrecy by drug traffickers and militias. Criminal organisations have been known to corral support for candidates and buy votes.
Bolsonaro's push for voting reform precedes his 2018 election, after which he claimed many votes cast for him were diverted to the Workers' Party candidate. Former President Luiz Inácio Lula da Silva, of the Workers' Party, is widely expected to run against Bolsonaro in 2022.
In recent weeks, the far-right president has racheted up the frequency and intensity of his comments.
"Either we do clean elections in Brazil or we don't do elections at all," he told cheering supporters on July 8. The next morning, he told them: "We run the risk of not having elections next year. It's your future that's at risk."
On Friday, the president of the Senate, Rodrigo Pacheco, said elections were "nonnegotiable" and that anyone who attempts to take a step backward "will be singled out by the people and history as the enemy of the nation."
The cause has become a family affair. His sons Eduardo, Flavio and Carlos, all politicians, have joined the campaign using their widely followed social media accounts and sometimes posting more than once a day.
The escalation coincides with record-low approval ratings for Bolsonaro, street protests against him, mounting pressure from a parliamentary inquiry into his administration's handling of the pandemic and allegations of corruption in the acquisition of vaccines. Early polling shows da Silva as a heavy favourite next year.
Brazil registered 57,737 new COVID-19 cases and 1509 new deaths in the past 24 hours, Health Ministry data showed on Saturday (AEST).
This means the total case count in Brazil has now exceeded 19 million, and the country has recorded 531,688 deaths.
AP, Reuters
Most Viewed in World
From our partners
Source: Read Full Article