Frightened kangaroo pulled out of freezing lake offers rescuer a handshake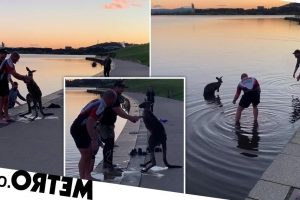 An exhausted kangaroo was pulled from chilly waters by two heroic passers-by in Australia.
Their heartwarming rescue effort was filmed by David Boyd, who was on the phone to the government in Canberra about the stranded animal this morning when they waded in.
The video showed two men slowly approaching the little shivering roo from two directions with their arms out.
They called for it to come closer to them, but it swivelled its head nervously and remained fixed to the spot in the cold Lake Burley Griffin.
As soon as the man on the left reached out to grab the kangaroo, it threw its arms over him and kicked the water.
The second man arrived soon after to help to scoop it up and lift it to safety onto the promenade.
As many passers-by watched on, a third man stood with the marsupial and tried to calm it down.
Get in touch with our news team by emailing us at [email protected]
For more stories like this, check our news page.
Source: Read Full Article