Fury as pro-Palestinian supporters deface war memorial with Manchester Police standing guard | The Sun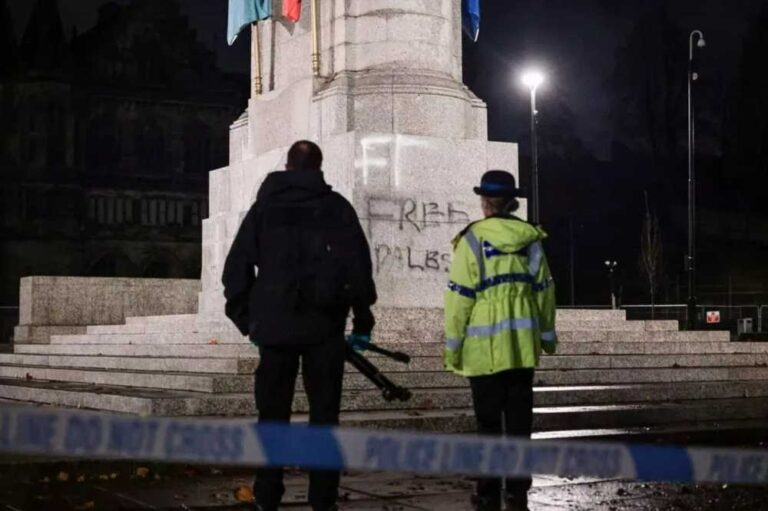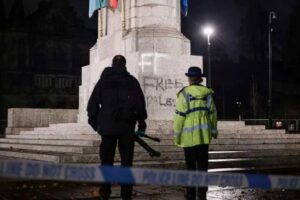 PRO-PALESTINE demonstrators have defaced a war memorial in Manchester as police stand guard to protect the landmark.
The Cenotaph memorial in Rochdale is currently being guarded by Police with patrols and CCTV after two incidents this week at the site.
Demonstrators daubed "Free Palestine" over the war memorial on Tuesday in the second attack in as many days.
Protesters defaced the foot of the Cenotaph – which is dedicated to brave servicemen who gave their lives during the First World War – with the slogan.
Manchester cops promised it would be "restored to normality as soon as possible" after the incident on Tuesday, but is currently considering it a crime scene.
Fears are also growing that far-Right thugs planning on "protecting" London's landmarks, including the capital's Cenotaph, may descend over Armistice weekend.
READ MORE NEWS
ON ALERT
Fears thugs will descend to 'protect' London's landmarks amid pro-Palestine demos
ON ALERT
Emergency COBRA meeting called over UK's terror threat level
Two teenagers – who cannot be named – were charged with intentionally or recklessly causing public nuisance following another incident just a day earlier.
The response to Tuesday's attack, reported shortly after 4pm, is underway as police investigate.
Chief Superintendent Nicky Porter, GMP Rochdale district commander, said: "We join communities across Rochdale in being deeply saddened by the incidents at the Cenotaph.
"The memorial is a particularly poignant reminder of those who have given their lives to our country, particularly at this time of year.
Most read in The Sun
LOU'S MAN
Louise Redknapp goes Instagram official with new boyfriend Drew Michael
STUBBED OUT
Smoking will be banned in Britain, Charles confirms in King's Speech
DAN THE MAN
Ex-Premier League star signs for League Two side after 4 months unemployed
BOX TO BOX
Match of the Day's future decided as TV giants snub show 'over viewing figures'
"We will not tolerate the criminal disrespect of the town's Memorial Gardens and I hope the action we have already taken in response to these two incidents reassures our communities of that."
It comes less than a week after wreaths were removed from the Cenotaph and replaced with Palestine flags.
Footage online showed a man picking them up and putting them back in their rightful place.
Metropolitan Police are under pressure to cancel pro-Palestine protests in London this weekend amid fears of an outbreak of violence.
Met police have urged protesters to "urgently reconsider" any demonstrations in London over the Armistice weekend.
There are reports that yobs may descend on the city to "protect" London's landmarks, fuelling already heightened tensions.
One source told the Daily Mail: "The protest alone is tricky enough but they think gangs of hooligans are going to team up and protect the Cenotaph.
"They have officers coming in from all across the country to help."
PM Rishi Sunak dubbed the protests "provocative and disrespectful", especially on Armistice Day, a marking of the end of World War One.
An emergency Cobra meeting was even called on Tuesday in No10 with police chiefs and intelligence officials in attendance.
Read More on The Sun
LIVE AGAIN
Legendary BBC comedy show returning to screens 20 years after first ever episode
LOU'S MAN
Louise Redknapp goes Instagram official with new boyfriend Drew Michael
Senior police met with organisers from a number of demonstrator groups on Monday to discuss the growing concerns.
They declined to postpone any demonstrations.

Source: Read Full Article