Harry earned £100m after Meghan was 'disappointed' at his wealth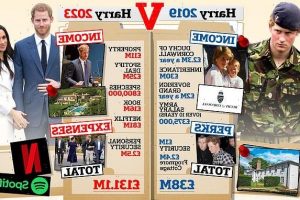 Inside Prince Harry's finances from when he met Meghan Markle to landing £100M with Netflix and book Spare deals… but at what cost?
It's estimated Prince Harry's earnt almost £100m since moving to the US
He and wife Meghan Markle quit the Firm in 2020 when Harry was worth £37.3m
Since then the couple have signed lucrative TV, book and media deals
Harry says they are necessary to pay for security as King Charles 'cut them off' 
Meghan Markle was allegedly 'surprised and disappointed' by how 'little money' Harry had when she met him –  but the prince was still worth nearly £35million when he began courting the Suits star, MailOnline can reveal today.
Royal author Tom Bower wrote that before meeting her future husband, Ms Markle thought he was 'worth hundreds of millions, if not billions.' 
Speaking to GB News, Mr Bower claimed that a bewildered Meghan has had to adapt to 'scrounging rides in big Cadillac's and private jets' due to the very real limits of her husband's pockets. 
Since Megxit in 2020, the couple have been making themselves busy with a host of lucrative deals – earning an estimated £100million in the process – after Harry claimed Charles had 'cut him off financially' following Megxit. 
These claims were later refuted by the Royal Family in the first of a series of never-ending public spats between the palace and the prince now in exile. 
Harry has seen his net worth skyrocket since he made the big move across the pond 
Harry and Meghan have raked it in since moving to the US. Following their Oprah interview, which they were not paid for, a string of lucrative deals and jobs followed. 
First came the Spotify deal for Archewell Audio, then a Netflix deal for their fly-on-the wall series and then a four-book deal starting with Spare, now an international bestseller. There have also reportedly been big money appearance fees for speeches and appearances at various events in the US, including a JP Morgan summit.
But despite the wealth all these projects have brought the Sussexes, relations with Harry's family appears to have never been worse.
MailOnline has taken an in depth look at Harry's finances before and after he met Meghan to chart the fiscal highs and lows of the Sussexes. 
Before Meghan – £34.6million (plus perks)
Princess Dianna left Harry £20million in inheritance when she died 
Frogmore Cottage was painstakingly renovated with £2.4million on taxpayer money
Prior to stepping back from the Royal Family in 2020, Prince Harry received money from his father's estate – the Duchy of Cornwall estate. 
This colossal pot of money, estimated at £1billion, it is considered a public asset because it has been gifted to the heir to the throne by every British monarch since 1337.
Its special royal status also gave Charles, and now Prince William, an exemption from corporation tax and capital gains tax. 
It paid Prince Harry £2.3million-a-year – a figure he and Meghan would later claim contributed to 95% of their office expenditure. 
Harry also received an estimated £2million-a-year from the Sovereign Grant. 
The Sovereign Grant is the money taxpayers allocated by the King to fund the royal family and is set at £86.3 million-a-year.
Harry's personal wealth before meeting Meghan was derived from the estimated £20million inheritance from his mother Princess Diana.
He also banked around £7million from his great-grandmother the Queen Mother, who paid it into a trust fund in 1994. 
Prince Harry was also thought to have various sums tied up in trust funds until he is 40 and other investments giving him around £30million in total inheritance.
From 2005 to 2014, Prince Harry served in the British Army, for three years as an officer and then for seven years as a Lieutenant with The Household Cavalry (Blues and Royals) – netting him a total wage of £375.398.
Prince Harry earnt an estimated £375,000 in his ten years in the army as a captain and lieutenant 
Prince Harry used to enjoy constant 24hour security paid for by the state (Pictured leaving a nightclub in 2012)
Perks – £3.4million
Prince Harry and Meghan enjoyed many freebies whilst they were fully paid up members of the firm including accommodation and security. 
Whilst they were working and living in the UK, Harry, Meghan and baby Archie had protection in the form of armed police provided by Scotland Yard – which was estimated to cost £600,000 in annual salaries and up to £400,000 in flights, accommodation, expenses and overtime.
Harry, Meghan and Archie were each understood to have one officer and are understood to have had a team of six protecting them in any 24-hour period.
They also had their UK home – Frogmore Cottage in the grounds of Windsor Castle – renovated to the tune of renovated at a cost of £2.4million, with the fee being paid from the Sovereign Grant which Harry has since repaid.
But they have been evicted by Charles III, who started the process just 24 hours after the release of Spare. 
Total £38million 
But despite his funds, the Prince would go on to claim that him and Meghan had been left to start their life with nothing in the US. 
When they announced they were stepping down as working royals, the couple pledged in a statement that they wanted to become 'financially independent while continuing to support Her Majesty The Queen'.
The Duke of Sussex has described himself, the Prince of Wales and the Duke of Cambridge as being 'trapped' within the system
In his bombshell interview with Oprah Winfrey in 2021, Harry sensationally announced his family had cut him off. 
He said: 'The Netflix and the Spotify of it all, that was never part of the plan.
'We didn't have a plan. That was suggested at the point at where my family literally cut me off financially and I had to afford security for us.' 
The claims were later refuted by the palace whose accounts showed they had continued to fund the couple until summer 2020. 
Harry also claimed he was 'trapped' before he met Meghan as he revealed his father Charles 'stopped taking my calls' during the build-up to the announcement that he and Meghan were leaving the royal family. 
The Duchess of Sussex also described her 'pain' that officials had denied her first born son the title of prince and accused Buckingham Palace of failing to protect Archie by denying him 24/7 security. 
 After meeting Meghan – £133.8million
Harry and Meghan have managed to make an estimated £100million since moving to the US
The couple's £11million mansion in Montecito, California was a tidy investment
Experts say Harry could net £800,000 for speaking engagements 
So despite 'not having a plan', it was clear to the couple that they'd need to start finding ways to put bread on the table. 
It's lucky then that they're two of the most famous and marketable people in the world then, isn't it? 
Since quitting the firm and heading over the pond to the US, Prince Harry and Meghan Markle's joint bank account has been boosted to the tune of £100million – despite their increasingly diminished popularity.
Like settlers of old, the couple have diversified their potential in the global and American market and made moves in several industries, including films, movies, podcasts and books. 
The pair are said to have signed a four-book deal worth upwards of £16million with the publishing giant Penguin Random House.
Just one of the projects released from this stable – Prince Harry's memoir Spare – sold 3.2million copies in its first week, which is a tidy earner anyway you slice it.
Netflix promised the six-part documentary series would tell the story of the Duke and Duchess's relationship as it's never been told before
In September 2020, the couple announced a mammoth deal £81million deal with Netflix claiming they wanted to provide 'hope and inspiration' with a series of programs. 
Their first effort, the self titled Harry and Meghan docuseries provided viewers with an inside look at the early days of their romance  and was packed with attacks on the Royal Family.
It proved to be a hit for the streaming service with nearly 2.5 million people watching the first episode on the day of its launch in the UK.
Meghan and Harry also netted a £25million deal with the streaming giant Spotify to create the podcast: Archetypes. 
Meghan spoke with friends, celebrities, historians and experts about the history of stereotypes that women face, with a few appearances from her husband.
Spotify had reportedly become impatient with Prince Harry and Meghan Markle about the pace of recordings – 12 episodes in two years – until it was eventually released at a rate of one episode per week last year.
It is not clear is Archetypes will return for a second series. 
Every Prince needs a castle and it seems the pair bought well, snapping up a £7.5million mortgage on their nine-bed, 13 bathroom, £11million mansion in Montecito, California.
With the cash rolling in, it is possible that the couple have paid off some or all the loan, but it's not clear based on US records.
Harry and Meghan are also able to make money through the lucrative after dinner speaking circuit. 
GDA Speakers, whose clients include Nicole Kidman and Diane Keaton, said the Duke and Duchess of Sussex would attract much higher fees than regular celebrities, even without their HRH titles.
Last November wealthy Americans spent up to $1million (£800,000) per ticket to rub shoulders with Prince Harry and Markle at a glittering New York gala.
Experts have said that both could ask that for a speech.
Expenses – £2.5million
The couple now have to pay for their own constant 24hour security detail
Since the couple moved stateside they have to forgo the state funded security they previously enjoyed in the UK. 
And when you're two of the most high profile celebrities in the world, round the clock security detail doesn't come cheap. 
In 2021, Forbes estimated that the couple spent around $2-3million on their personal security detail which extends inside and out of their California home. 
Total £131.3million 
Source: Read Full Article