Horror as at least 16 people – including three kids – die in gas leak disaster in South Africa | The Sun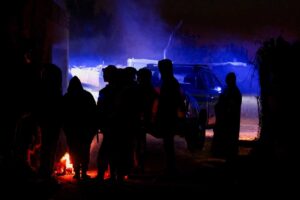 AT least 16 people – including kids – have died after a gas leak in South Africa.
The disaster, thought to be linked to illegal mining activities, occurred at the Angelo informal settlement near the district of Boksburg, east of Johannesburg.
"We have got 16 on scene now that are confirmed dead, and the intervention of paramedics managed to revive some others and they were taken to hospital," emergency services spokesman William Ntladi told AFP from the scene.
Of those in hospital, four are in "critical" condition while 11 are in "serious but stable" condition, he said. One, who he described as a minor, was fully conscious, he added.
Five women and three children were among the dead.
Emergency services received a call around 8pm (1800 GMT) about a gas explosion, but on arrival they discovered it was "a gas leakage from a cylinder" containing a "poisonous gas", Ntladi said.
Read more in news
Man and woman, 22, appear in court charged with murder of two-year-old girl
Man ADMITS murdering mum-of-4 ex & her new lover & raping 2nd woman on same night
"Due to the scene still unfolding we are busy checking the entire area affected to ascertain numbers of hospitalised casualties," he said earlier.
Preliminary information suggests the gas was being used "as part of illegal mining activities," he added.
With a dizzying unemployment rate of more than 32 percent, South Africa is home to thousands of illegal miners nicknamed "zama zamas" which means "those who try their luck" in Zulu.
Thousands of the unregistered miners scavenge obsolete mines for gold under arduous and often perilous conditions.
Most read in The Sun
Huge Netflix series to end after four seasons leaving fans devastated
Eco-yobs invade Wimbledon's Court 18 for a SECOND time in three hours
Major supermarket to close more stores within weeks – is one going near you?
BGT's The Witch identity FINALLY revealed over a year after terrifying Amanda
South Africa's commercial hub Johannesburg and its surrounding areas are built around mountainous dumps of soil and cavernous pits left behind by generations of mining companies that started extracting during a gold rush in the 1880s.
Boksburg, a middle-class suburb of Johannesburg, was last month struck by a 5.0 magnitude earthquake, suspected to have been linked to the maze of underground tunnels and shafts associated with illegal mining in the area.
The same suburb was also the scene of a massive gas tanker explosion that killed 41 people on Christmas Eve last year when a truck carrying liquefied petroleum gas (LPG) got stuck under a bridge, triggering a leak and blast.
Among the victims were people and medics who had approached the scene either to help or see the trapped truck.
Dozens at a nearby hospital, including patients and staff members, sustained serious burns after the explosion, which smashed windows and caused the roof to collapse.
Source: Read Full Article