How a hospital found itself at the centre of Gaza conflict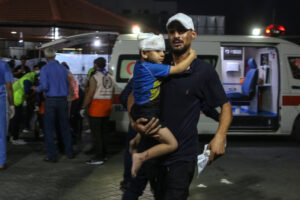 Save articles for later
Add articles to your saved list and come back to them any time.
Israeli troops raided Gaza's largest hospital on Wednesday, searching for traces of Hamas inside and beneath the facility, where newborns and hundreds of other patients have suffered for days without electricity and other necessities.
Al Shifa Hospital in central Gaza has been the focal point of the Israeli effort over the past week, amid claims Hamas has been using hospitals as cover for its infrastructure, to hide hostages and was using non-combatants as human shields.
Weapons and other equipment that Israel's army says it found at Al Shifa Hospital complex in the Gaza Strip.Credit: IDF
Details from the day-long raid remain sketchy, but officials from Israel and Gaza present different accounts of what was happening at the hospital. The Israeli army released video showing soldiers carrying boxes labelled as "baby food" and "medical supplies" while health officials talked of terrified staff and patients as troops moved through the buildings.
How the raid unfolded
Israeli forces entered the western side of the hospital complex in the early hours of Wednesday in what they described as a "precise and targeted operation against Hamas".
Details were scarce. The BBC reported a witness account that all men aged 16-40 were asked to leave the buildings, except those in the surgery and emergency departments.
The Israel Defence Forces said troops had engaged Hamas fighters inside the hospital before taking control of the western side of the complex. It said it found "an operational command centre, weapons, and technological assets" in an MRI building.
Can hospitals be attacked?
International humanitarian law offers protection to hospitals during wartime. Attacking them is considered a war crime, but this is rescinded if the facility is used for "acts harmful to the enemy".
These can include, according to the Geneva Conventions, using medical facilities to shelter able-bodied combatants, as a place to store weapons, or as an observation post.
The IDF says Hamas routinely uses hospitals for these purposes and has long sought to position Al Shifa as a headquarters and command post, all of which Hamas denies.
This has served as justification for airstrikes at hospital compounds, cutting power and the free supply of aid, and telling civilians to leave the facilities and head south.
Tedros Adhanom Ghebreyesus, the general secretary of the World Health Organisation, called the raid "totally unacceptable".
What evidence does the IDF have?
The raid on Al Shifa came after the United States said its intelligence confirmed IDF claims of significant infrastructure under the hospital.
Lieutenant Colonel Jonathan Conricus shows a "grab bag" containing weapons and Hamas uniform behind an MRI machine at Al Shifa.Credit: IDF
The IDF released walk-through videos at Al Shifa and Al Rantisi hospitals in which it displayed about 20 rifles, explosives and other military equipment.
That included at least three "grab bags" at Al Shifa, essentially a soldier's kit, containing a vest, rifle, ammunition, a live grenade and uniform.
Lieutenant Colonel Jonathan Conricus, an IDF spokesman, presented one of those bags hidden behind an MRI machine as evidence militants were deliberately concealing weapons at the hospital. He also showed a security camera that had been taped over next to the largest collection of rifles the IDF presented in a hospital so far: about 10 at the bottom of a cupboard containing fuse boxes.
It said these finds justify actions it has taken in and around Al Shifa but, as of Thursday afternoon (AEDT), was yet to release evidence of tunnel systems or a major stockpile of weapons.
There was also no sign of the 240 hostages Hamas took back to Gaza during its bloody October 7 incursion in Israel.
In the videos, the IDF pointed to baby bottles, the presence of a toilet in a basement, and a chair found next to rope and women's clothing as suggestions hostages had been held in the hospitals at some stage.
What now?
It is likely the IDF will publish more footage from Al Shifa, given its forces were still operating there on Thursday.
It said the east side of the complex would remain open as somewhere people could evacuate from. It has for weeks encouraged people to evacuate the facility and head to south Gaza.
---
More coverage of the Hamas-Israel conflict
Hamas had bigger plans on October 7: Intelligence about Hamas' motivations reveals an intention to strike a blow of historic proportions and provoke an overwhelming Israeli response.
Escape from chaos: An Australian father faced heartbreaking dilemma – whether to flee Gaza to his children, or stay with his wife.
Open letters: Mass resignations, boardroom turmoil and angry donors are some of the ways the Israel-Hamas war is filtering down into Australia's high-powered arts world.
Gaza's youth: One of the cruelest ironies of war is that they are never started by children, yet it is children who suffer the most.
Get a note directly from our foreign correspondents on what's making headlines around the world. Sign up for our weekly What in the World newsletter.
Most Viewed in World
From our partners
Source: Read Full Article