Hunter Biden says he probably smoked 'parmesan cheese' digging for crack in carpets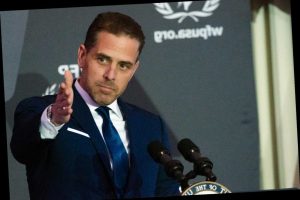 More On:
hunter biden

Hunter Biden defends decision to take seat on Ukrainian energy board

Hunter Biden tries to explain relationship with dead brother's widow

Book of lies: Hunter Biden whitewashes just about everything in new tell-all

Joe Biden, Hunter's laptop & media lapdogs: Goodwin

Hunter Biden recalled how he used to scrounge through the carpet looking for crack cocaine after getting high — saying he probably wound up smoking "parmesan cheese."
"I spent more time on my hands and knees picking through rugs, smoking anything that even remotely resembled crack cocaine. I probably smoked more parmesan cheese than anyone," President Biden's son said on "CBS Sunday Morning."
"I went one time for 13 days without sleeping, and smoking crack and drinking vodka throughout that entire time," he said during an interview to promote his memoir, "Beautiful Things," out April 6 from Gallery Books, an imprint of Simon & Schuster.
He said his then-vice president dad tried to intervene after he began binge-drinking vodka following the death of brother Beau Biden in 2015.
"He came to my apartment one time. And this was when he was still in office as vice president, and so he kinda ditched his Secret Service, figured out a way to get over to the house," Hunter said.
"And I said, 'What are you doin' here?' He said, 'Honey, what are you doing?' I said, 'Dad, I'm fine.' He said, 'You're not fine.'"
Hunter later teared up in the interview saying his dad still calls him every night.
"We talk at least every night," he said. "By the way, not only does he talk to me every night; he calls every one of my daughters and he talks to each one of them every day. And I know that he talks to me, and I know that he talks to my sister."
Share this article:
Source: Read Full Article