I built a lux cave in a WW2 bunker – it has a stunning view & all the mod cons…it's hard to believe it just stored hay | The Sun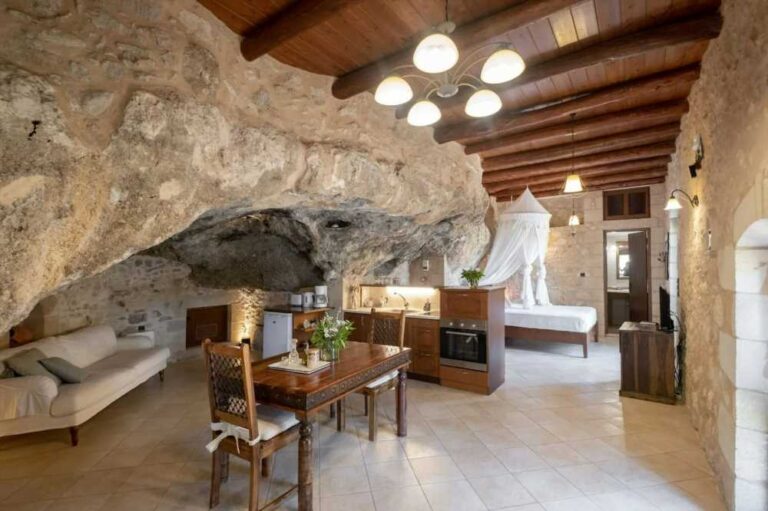 A COUPLE has told how they transformed a World War 2 bunker into a luxurious cave home that boasts breathtaking sea views.
Kostas Mauromatis and his wife Nantia Kakaounaki initially converted the cave below their home in Greece as a space to cool down during the hot summer months.
The cave – which dates back to 1850 – was used as storage space for years until 2007 when the pair started working on its transformation.
Located in the picturesque village of Kaliviani in Crete, the cave is now a modern studio with all the mod cons – including stunning sea views.
The owners said what used to be a WW2 bunker is now "the perfect spot for a romantic getaway, a unique experience."
Nantia told The Sun: "The cave was initially above the main residence and used as a storage for agricultural products, hay, oil and wine.
Read more cave homes
I quit the city to live in a CAVE – I love it but there is a big problem
I went to Spain and now I live in a CAVE – we get bats & snakes but we love it
"During WW2, many locals used it as a refuge to shelter from the bombings.
"My husband had the idea to turn it into a flat 18 years ago while keeping the natural rock intact.
"His inspiration was a childhood image, his great-grandmother sleeping on a small wooden bed in a corner of the cave to cool down during the hot summer months – so we thought 'why not?'" 
Hidden below the main residence, the 650sq ft cave home is carved into the rock and has wooden doors and ceilings.
Most read in The Sun
BRIEF FLING
Rhian Sugden breaks silence on dating Russell Brand after star accused of rape
NEW GIGG
Giggs closes in on return to management as Man Utd legends consider SOS call
EX ON THE BEACH
Man City ace Kyle Walker buys his ex Lauryn Goodman 'massive' £2.5m mansion
TANGO AND PASH
Strictly couple can't keep hands off each other leaving crew feeling awkward
The studio comes with a fully equipped kitchen, double bed, private bathroom, a sofa and a terrace and has a TV, WiFi and aircon.
It's big enough to host up to 10 people and visitors have access to the property's garden and swimming pool.
Listed among the top Airbnbs in Greece, Nantia says visitors- mainly Americans- are usually left "speechless" after seeing the cave.
In another part of the world, a slab of volcanic rock was turned into a cave village with all the mod cons needed for modern living.
Over 150 families live happily in Kandovan, a village in northwestern Iran, making it one of the world's largest modern cave dwellings.
A British couple decided to leave the UK to live in a luxury cave home in Spain- and they absolutely love it.
Shirley and Mark, both 60, originally owned a holiday home in Murcia, but decided they wanted to try somewhere different to stay.
While another Brit ditched her house in Cornwall to live in a cave in Spain – and says there are surprising benefits.
Matilda Kennard Troughton, 54, was looking for peace and quiet after years following a hectic work schedule as a wholesaler.

Source: Read Full Article