I'm the dumpster diving king & make thousands selling designer clothes hauled from bins…it's about knowing where to look | The Sun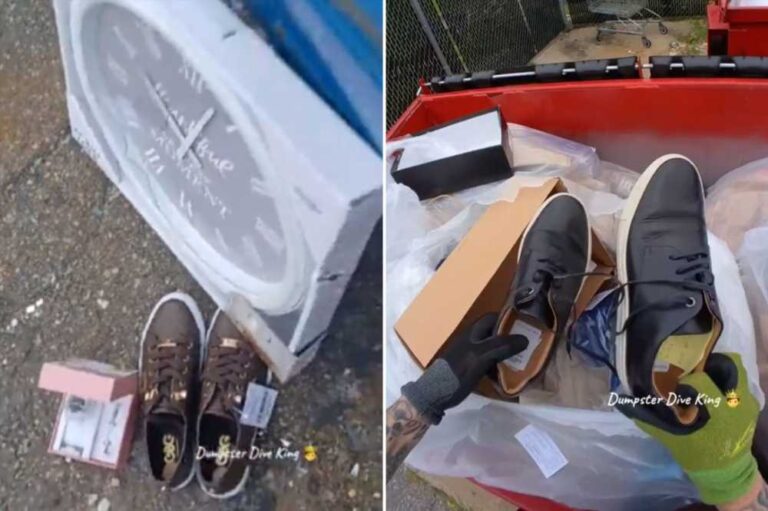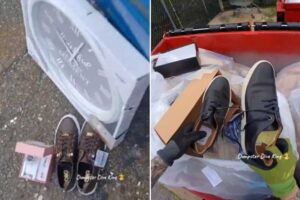 ONE MAN has taken dumpster diving to new levels – he earns thousands from his finds, and has shot to fame on social media.
Dubbed the "dumpster dive king", he has been posting videos of his diving exploits and how he chooses to share his riches.
In one of his latest TikTok videos, the king went dumpster diving outside a designer store.
He finds Hugo Boss black leather shoes, estimated at around $294, or £239.
As well as a pristine pair of white Uniqlo Frame Jeans, priced at $235, or £190.
Also in the haul are a pair of brand new Champion sliders, a brand new T-shirt, and Gucci sunglasses cases.
read more dumpster diving
TRASH TO TREASURE
I made the craziest scores ever dumpster diving at Bed, Bath, & Beyond
DIVING IN
I'm a UK dumpster diver, I live off of waste, & saved thousands on food & clothes
"All of this stuff is fricking brand new and with tags you guys," he says surprised, before turning to rifle through the dumpster once more.
In another video the king stumbles across unused Dolce & Gabbana shoes – which are priced at $795 first hand, or £645.
He also finds brand new Fila trainers, a Kensie watch and other homeware like a clock and a sign reading "love lives here".
The dumpster dive king has quickly amassed a following and a fanbase, with thousands having been inspired by him.
Most read in The Sun
TEAR IT DOWN
Captain Tom's daughter ordered to demolish spa complex after losing appeal
KING'S STAMP
Crime crackdown, smoking ban & green light for self-driving cars confirmed
HEIR MILES
Harry flies on fuel-guzzling private jet owned by oil heir to attend concert
READY TO RUMBA
Former Strictly star 'confirms' Ellie Leach and Vito Coppola romance
One user commented: "I want to dumpster dive. Tell me where to do it."
A second said: "Such a waste! Thank you for doing this."
But some social media users have been sceptical.
One said: "I just can't believe those things are in a dumpster."
Another user said: "All planned so we watch the videos."
The self-proclaimed king has been using his newfound fame to bring attention to how much waste there is in America.
He dedicated one video to a dumpster full of items like notebooks with the caption "stuff that should of been donated to schools".
The king has also been sharing videos of him donating items found in dumpsters, alongside videos of him using the money he earns from selling dumpster-found designer goods to help local communities.
A fan said: "Love that you're supporting these kids to save for their future".
While another simply stated: "You are a good person!"
He isn't alone in the art of dumpster diving, however, and one couple in America have revealed how addictive it can become.
This pair go through rubbish bins at least three times a week and always find items in perfect condition including clothes and books.
She said: "Dumpster diving has become addictive. People can survive off food inside dumpsters.
"We go at night and have spent up to seven hours searching before.
"I keep a lot of the craft things. Everything is in perfect condition.
"We donate clothes and books and things like that we find.
"Being able to give that to someone who needs it is such a good feeling."
Veronica donates most of the clothes, books and pet food she finds to charities and the homeless.
She had her first taste of dumpster diving in June 2022 and hasn't stopped since.
"The other night we found about £80 work of magazines in perfect condition," she said.
"We give books and magazines to care homes for residents to read.
"We found heavy kids' coats which we went to give to homeless people ourselves.
"They're just thankful."
Meanwhile, dumpster diving is also becoming an increasingly popular phenomenon in the UK.
The YouTube account Auditing Waste UK, has been highlighting just how bad waste is while saving himself thousands of pounds.
Read More on The Sun
LIVE AGAIN
Legendary BBC comedy show returning to screens 20 years after first ever episode
LOU'S MAN
Louise Redknapp goes Instagram official with new boyfriend Drew Michael
It has been estimated that 9.5 million tonnes of food is thrown away in the UK annually – this dumpster diver wants to highlight just how bad it is.
Taking to social media, he regularly shares the 'rubbish' he finds across different retailers in the UK – from basic food to kids' toys, Nike clothing and even £200 perfume in Harrods.

Source: Read Full Article