Inflation falls to single digits for the first time since last summer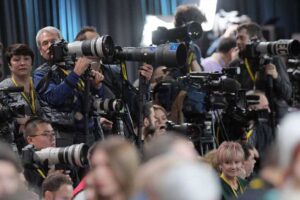 Inflation falls to single digits: Rate dips to 8.7 per cent in sign cost of living crisis might FINALLY start to ease – a day after UK growth forecast was upgraded
Price rises dipped to 8.7 per cent after gas and electricity costs remained stable 
The rate of inflation has dipped to single digits for the first time since last summer, dipping to 8.7 per cent last month. 
The Office for National Statistics (ONS) said the drop in the consumer prices index (CPI) was mainly due to gas and electricity costs remaining stable in April compared to last year.
In April 2022, the energy price cap was hiked by 54% to £1,971 to reflect a boom in the price of gas following Russian's invasion of Ukraine.  
Alice Haine, personal finance analyst at Bestinvest, said households could 'breathe a mini sigh of relief' over the figures – but warned the cost of living crisis was far from over. 
'This ends a seven-month streak of double-digit rates – a reflection of a sharp fall in energy prices and a loosening labour market,' she said. 
'While easing inflation is undoubtedly good news, consumers should not expect any major change in their disposable income just yet – prices are still going up after all. 
'The lower inflation figure is more about comparing apples with apples than retreating prices. This is because April's Consumer Prices Index is compared to the same month in 2022 when the energy price cap increased by a whopping 54%.'
The typical energy bill is now capped at £2,500 compared to £1,971 in the second quarter of 2022. Grocery price inflation has eased slightly on the year but is still very high at 19.1%.     
Chancellor Jeremy Hunt said the latest inflation figures were a sign of progress. 
'The IMF said yesterday we've acted decisively to tackle inflation but although it is positive that it is now in single digits, food prices are still rising too fast. 
'So as well as helping families with around £3,000 of cost-of-living support this year and last, we must stick resolutely to the plan to get inflation down.'
Shadow chancellor Rachel Reeves said: 'As bills keep surging, families will be worried food prices and the cost of other essentials are still increasing.
'They will be asking why this Tory government still refuses to properly tackle this cost of living crisis, and why they won't bring in a proper windfall tax on the enormous profits of oil and gas giants.
'The reality is that never have people paid so much in taxes and got so little in return.
'Our economy is constantly lurching from crisis to crisis, when we should be protecting family finances and building our national economic security here in Britain.
'Labour's mission to secure the highest sustained growth in the G7 will make families across every part of our country better off,' the Labour MP said.
This is a breaking news story, more to follow. 
Source: Read Full Article