King Charles Coronation LIVE: Royals return to engagements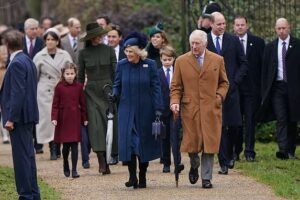 King Charles Coronation LIVE: Harry's visit to Buckingham Palace, garden party, Royals return to engagements, Charles and Camilla at Sandringham and Met regret over protests – latest updates
MailOnline's live coverage of all things royal after the weekend-long festivities commemorating the coronation of King Charles III and Queen Camilla:
Host commentator
Official Coronation portraits show Charles has surrounded himself with a slimmed down monarchy
King Charles III's first official portrait following the Coronation show him as a 'monarch who knows his own mind', surrounded by 'the people he can depend on', a royal expert last night declared.
Monday saw the sovereign's opening set of Royal photos unveiling the King's new 'slimmed down' monarchy, with his 'hard-working and respected' sister, Princess Anne and loving wife Queen Camilla firmly by his side.
And to mark his reign as head of state, the 74-year-old sovereign was unveiled in a striking new solo portrait to commemorate his historic crowning.
'This one is a strong forceful portrait of a monarch who knows his own mind and is very experienced,' royal expert Richard Fitzwilliams told MailOnline last night.
Read the full article:
Neil O'Brien declined to criticise the police operation, telling Sky News: 'In general, I think the police did a pretty good job over the weekend. The whole thing passed off smoothly.
'It's not for me to second guess every single decision the police make. It is a difficult thing. You're in a huge crowd. I'm sure that sometimes the police don't get every single decision they make right because no-one can make every single decision right every single time. But overall, they made the coronation go off really smoothly.'
Mr Neil added the police were 'quite right' to apologise if the Met thought it made mistakes, but praised the overall coronation weekend operation and how the force 'managed a huge national event very, very well'.
He told BBC Breakfast: 'I don't want to second-guess every single decision they made. If they are apologising for some of the things that they've not got right, they're quite right to do so.
He also defended the necessity of the Public Order Act, adding: 'I think that the new law is absolutely needed and I completely defend it.'
Shadow levelling up secretary Lisa Nandy said that something had 'gone wrong' following arrests of six anti-monarchy protesters ahead of the King's coronation.
She told BBC Breakfast today: 'Clearly, something has gone wrong in this case. Peaceful protest is an important part of British democracy. The Met accepted that and I think the Mayor of London is right to ask for a review to determine what exactly went wrong in this case.
'Whatever it was, this was a very complex policing operation. It largely went off without a hitch and I think the police deserve credit for that. But where there are incidents like this, we have to take them seriously and I think that it's right that we learn the lessons and take steps to rectify that.'
On the use of powers under the controversial Public Order Act, she said: 'It's not clear in this case whether the problem is with the legislation, or whether the problem is more operational and a matter for the police.'
Prince Harry 'spent 30 minutes at Buckingham Palace' before jetting back to California
The Duke of Sussex slipped in and out of Buckingham Palace after the Coronation without seeing the Royal Family during his visit to Britain, it was claimed.
Prince Harry spent about half an hour at the Palace after the Westminster Abbey service before travelling to Heathrow Airport to return to the United States on Saturday.
He went to the Palace for 'logistical reasons' to take a moment out of the public eye after the two-hour ceremony and didn't speak to any family members.
It comes after King Charles III reportedly expressed 'regret' over Prince Harry's invitation and toasted 'those that weren't there' during the Royal Family's celebratory lunch.
Read more about Harry's quick visit here:
King Charles and Queen Camilla to enjoy a few days off in Sandringham
The King and Queen are to take a break at Sandringham this week as they recover after the weekend of celebrations.
Charles, 74, has one engagement today before he joins his wife for some well-deserved rest and relaxation at their private Norfolk estate.
They will take the rest of the week off and possibly a few days early next week.
Read the full article on MailOnline:

Source: Read Full Article