LA attorney secured $10.2M in loans with 'fake photos of collateral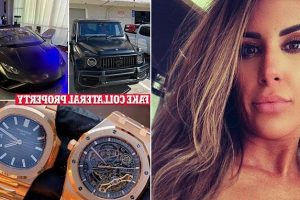 EXCLUSIVE: 'It was truly a house of cards.' LA attorney used 'bogus' photos of luxury cars and watches she claimed she owned as collateral to secure $10.2M in loans she then spent on gambling and a lavish lifestyle, estranged husband claims
Sara King's alleged scheme began to unravel late last year when a rep from lending firm LDR flew to LA to view the collateral assets she claimed to have 
Speaking to DailyMail.com, estranged husband Kamran Pahlavi, 49, claimed she secured $10M in loans by putting up luxury cars and watches she didn't own 
King, an LA-based attorney, is now being sued by LDR who alleges she borrowed 97 loans for fake clients and squandered it by gambling and luxury items
The Los Angeles attorney who allegedly swindled millions of dollars from a lending company began to see her scheme unravel late last year, when she failed to provide proof of collateral property, DailyMail.com can reveal. 
Sara King, 39, is accused of borrowing $10.2million from LDR International by pledging expensive watches and high-end luxury automobiles that she did not own as security for repayment of the loans. 
According to a lawsuit filed by the British Virgin Islands-based firm, King claimed the 97 loans were intended for third parties, including high profile stars she was pursuing, but actually used the money to fund her lavish lifestyle instead. 
Sara King, 39, is being sued by British Virgin Islands-based lender LDR International for allegedly taking out $10.2million in loans that she then used to fund 'an extravagant lifestyle' 
The loans were secured by various forms of collateral put up by King, including luxury cars, jewelry, and watches that she allegedly did not own 
King's estranged husband has shared photos of the valuable assets she allegedly sent to LDR as proof of collateral 
King's alleged ruse would come crashing down late last year, when she was left scrambling to show proof of the collateral property after a company employee flew out to LA to see them. 
In an exclusive interview with DailyMail.com, her estranged husband Kamran Pahlavi, revealed how King made several attempts to stall by sending photos and making excuses during the rep's visit, but ultimately was never able to show the valuable items in person. 
'She had the perfect plan. If she wasn't that greedy and stupid, she maybe would have never been caught,' he said. 
Pahlavi, 49, who helped expose his estranged wife after catching wind of her scam, said he introduced her to a friend of his who owns LDR International about a year ago. 
'I've been friends with this guy for 30 years, I've never done business with him, but I thought Sara and he would work well together and make money for both,' he said. 
King's now estranged husband, Kamran Pahlavi – the grandson of Iran's Princess Ashraf – told DailyMail.com he helped expose her scheme after he grew suspicious
'Sara told my friend that she knew people who needed money, so she claimed to have taken their watches and vehicles in as collateral against their hard money loan. 
She also used sports contracts, yachts, jewelry and gold coins to fool LDR. 
The highest individual amount was the last of her 97 loans for $750,000 based on an unidentified Major League Baseball player's contract taken out on October 12.
'She promised my friend a return of approximately 5 per cent a month. In turn, Sara was going to make approximately 3 per cent on the money,' said Pahlavi.
'If Sara had $10million dollars in loans and was going to make 3 per cent, she would be bringing in $300,000 a month.'
But according to Pahlavi – the grandson of the late Shah of Iran's twin sister – the problem was that King wasn't making the money she claimed and instead spent the money on gambling and luxury items.
He even described her as a 'junior Bernie Madoff.' 
'She was robbing the proverbial Peter to pay Paul,' he said. 
'The luxury cars and watches she claimed to have weren't given to her as collateral. 
'She did have some nice cars, but most of the ones she claimed were collateral were cars she took pictures of while in Las Vegas or at a luxury rental car store. 
'The video she took of the high-end watches could have been taken at any jewelry store.
'It was truly a house of cards. Once my friend wanted to see the collateral everything began to fall, and she was exposed.
Pahlavi said most of the vehicles King claimed were collateral were cars she took pictures of while in Las Vegas or at a luxury rental car store
When an LDR representative flew into LA to view the property she claimed to put up as collateral, she made several attempts to stall and ultimately failed to show proof, her husband claims 
King secured a $195,000 loan in May last year with photos of three. watches including this Audemars Piguet Royal Oak with its rose gold band 
Pahlavi grew suspicious of his wife's stalling and excuses after she failed to show photos of the vehicles in person, sending videos and photos instead, a text message shared with DailyMail.com shows 
Pahlavi said her deceit began to unravel last September when a representative from the LDR, who had lent her money wanted to personally see the collateral she claimed to have had put up against loans given to her.
Pahlavi said the representative flew into LA and they met up for a dinner in Beverly Hills.
The next day King was supposed to take the LDR representative to a storage unit to show him the luxury cars.
'Sara sent us to a garage in Orange County and when we arrived, she claimed to have not had a key to that garage but gave us another garage address where she purported to have more cars. 
'There were about 13 exotic cars at this garage but none of the license plates matched up. We later found out that it was an exotic car rental company she was trying to do business with. 
'The representative from LDR became a little suspicious but Sara being the charming person she is, explained her way out of it,' said Pahlavi.
'Then the representative wanted to see the high-end luxury watches, Sara told us to meet her at a bank in Beverly Hills. She said they were in a safety deposit box.
'Just minutes before the bank closed Sara called and told us she had given us the wrong address but then sent us a video of several high-end luxury watches claiming to be the collateral. 
'This video could have been taken anywhere.'
King then met the rep before he left town, profusely apologizing for the 'mix up' because she wasn't organized, according to her husband. 
She assured the rep that she did have all the collateral some of it being at an appraiser. 
The company employee became angry with the situation and went back to his hotel and flew out of town. 
Pahlavi (right), who left King in October, slammed his soon-to-be ex-wife as a 'con artist who has no heart' 
King was supposed to take the LDR representative to a storage unit to show him the luxury car, but instead sent him to a garage in Orange County and then claimed she did not have the key
According to Pahlavi, King only sent photos of the property and repeatedly made excuses when she was asked to provide tangible evidence  
A list of King's 'purported collateral' items included in LDR's lawsuit shows the luxury goods she had pledged for each of the 97 loans she borrowed 
'Sara always had an excuse for everything, and it was always someone else's fault for her failures,' said Pahlavi.
She later sent him pictures of high-end watches and luxury cars purporting to be the 'collateral.'
The rep started to look at the loan documents and realized one of the bank statements was missing a logo. 
But when King was confronted by this, she had an excuse for it. 
Pahlavi became more suspicious and then demanded to go to the bank and get the statements directly. 
He and King went to Chase bank to get her bank statements so they could send to the lender.
He said: 'Sara wouldn't allow me to come up to the teller with her when she was getting copies of her statements.' 
And after getting the bank statements she wouldn't allow Pahlavi to see them.
'She claimed that some of the information on them were from other 'customer's accounts and she couldn't show them to me.'
King then locked herself in the bedroom for a few hours later emerging with the bank statements. 
Pahlavi said LDR ran the statements she provided through a computer program and learned they were fraudulent.
Pahlavi said after King went to sleep that night he went into the bathroom and found bank documents in the garage she had discarded. 
He took these documents and gave them to LDR international. They showed she had spent more than $690,000 at the Wynn Hotel in Las Vegas in July 2022.
King spent the money she allegedly swindled at Dior, Chanel and Rolex – as well as bragging that she was going to buy a luxury boat, her husband claims
She would share pictures of wads of cash on her social media, and send them to her prospective victims in a bid to earn their trust
King has been pictured in the last week continuing to gamble in Las Vegas despite the lawsuit being served to her 
'Sara is capable of anything, I'm frightened of her, not in a physical sense, but she can be the nicest person in the world and in a matter of a few seconds switch to a very scary person,' said her ex.
At the time of their separation Pahlavi said they were living at an $8,000-a-month luxury apartment at the AKA building – formerly the swank Standard Hotel – in West Hollywood but would spend weeks at a time in Las Vegas.
'She's mental,' said Pahlavi. 'She conned several of her friends out of tens of thousands of dollars, she took $5,000 in tip money from a waitress in Las Vegas.
Pahlavi said King had the perfect scam, he said he later learned King would tell potential customers that she knew someone who needed money for a short time, and they would be getting their money back plus 50 per cent in interest. 
To make the potential target feel comfortable, Pahlavi said, King would show pictures of designer watches and cars that she would have as collateral in case the 'loan' from the client defaulted.
'She capitalized on individuals' greed, wanting to make a quick dollar. If it sounds too good be true, it usually is,' added Pahlavi.
Last October after getting more information for LDR international Pahlavi told his wife, he was going to the drug store. He never went back. 
King is accused of spending millions of dollars on gambling and luxury items
He first went to live with a friend, then visit his son and he is now staying in Morocco. 
A divorce action has been filed and he says he has to wait six months before it becomes finalized.
'She is certifiable. She belongs in a mental ward. She is a con artist who has no heart,' he said.
Ron Richards, the Beverly Hills attorney who filed a lawsuit against King exclusively told DailyMail.com: 'We worked hard to get her to provide accurate banking records and gambling records to see how she spent the money. As time progressed, she became more evasive, trying to delay us in filing an action. 
'She's been served and we await her response. We've also filed numerous complaints with various regulatory agencies, we will be escalating this matter further. 
'We are currently preparing a criminal referral based upon her conduct and will cooperate if any criminal investigation arises.' 
Pahlavi said he still cares about his estranged wife but wants nothing to do with her. 
'She is a liar and a fraud – a house of cards. She has a bad gambling addiction.'
He said he feels embarrassed that he didn't know about his wife's deceit until it was too late. 
'We maintained separate accounts during our marriage, she had her own business accounts she used to conduct her deception.'
To top things off several months ago she sent me a picture and said she was pregnant but had a miscarriage from the stress. 
'I don't believe a word she says. She's hurt too many people and needs to be stopped.'
Source: Read Full Article