Lady Gaga, Jennifer Lopez to sing at Biden's inauguration.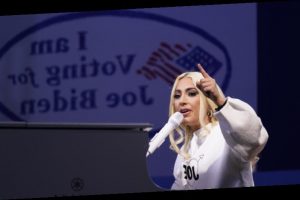 New York: Bruce Springsteen, John Legend and Foo Fighters will perform remotely during the prime-time special that will cap the inauguration of President-elect Joe Biden, while the Presidential Inaugural Committee said actors Eva Longoria and Kerry Washington will also have roles to play in the program.
The inaugural committee has also outlined its plans for Biden's swearing-in ceremony, with Lady Gaga to sing the national anthem in person and Jennifer Lopez to provide a "musical performance" of her own.
Joe Biden stands with Lady Gaga at a rally just before election day. Credit:AP
The announcement added yet more stars to "Celebrating America," a live-stream event scheduled for the evening of Inauguration Day next week on January 20. This week, Biden's inaugural committee said actor Tom Hanks would host while singers such as Justin Timberlake, Jon Bon Jovi and Demi Lovato would perform.
Officials have said that the 90-minute event will also include remarks from Biden and Vice President-elect Kamala Harris.
During the piecemeal rollout of inauguration plans, Biden's team has said that the program will "showcase the American people's resilience, heroism and unified commitment to coming together as a nation to heal and rebuild".
Officials specified that the program would include "stories of young people making a difference in their communities". Longoria and Washington, they said, will introduce those segments, as well as musical performances throughout the night.
More performances could still be announced. The prime-time special will be carried live by major networks and streamed on various social media platforms and on steaming services.
Incoming presidents have often sought to lean on musical artists at their inauguration to help drive home a central message. Biden's team has chosen "America United" as the theme of the inauguration, and it's possible that the performers his team chose will select songs that encapsulate that idea.
But all the star power will not change the reality that Biden's inauguration will be taking place amid a pandemic and weeks after the Capitol was breached by a mob attempting to overturn his election.
The resulting health and safety concerns have forced officials to reimagine and scale down inaugural events. For instance, they have added a "virtual parade across America" and a public art installation on the National Mall. In an attempt to limit the spread of the coronavirus, there has been no mention of indoor, in-person inaugural balls or galas.
The ceremony's invocation will be given by the Reverend Leo O'Donovan, a former Georgetown University president, and the Pledge of Allegiance will be led by Andrea Hall, a firefighter from Georgia. There will be a poetry reading from Amanda Gorman, the first national youth poet laureate, and the benediction will be given by Reverend Silvester Beaman of Bethel African Methodist Episcopal Church in Wilmington, Delaware.
On the same platform, Biden sat behind pop star Beyoncé in 2013 as she sang The Star-Spangled Banner at President Barack Obama's second inauguration. James Taylor sang "America the Beautiful," and Kelly Clarkson sang "My Country, 'Tis of Thee."
At Trump's inauguration in 2017, the anthem was performed by 16-year-old singer Jackie Evancho. A number of top artists declined the opportunity to perform at the festivities.
The New York Times, AP
Most Viewed in World
Source: Read Full Article