Man, 80, choked to death when paramedics misunderstood DNR notice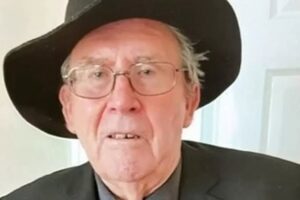 Pensioner, 80, choked to death when paramedics stopped racing to save him because 999 handlers heard there was a Do Not Resuscitate notice on his care home file – for in case he ever had a heart attack
Robert Murray choked to death when paramedics were told he had a DNR notice
But the notice on his file was only supposed to apply in case of a cardiac arrest 
An eighty-year-old man choked to death after Eastbourne nursing home staff misunderstood a 'Do Not Resuscitate' notice on his file, a coroner has found.
Robert Murray died at the Avalon Nursing Home in June 2021 when a piece of fruit became stuck in his throat at breakfast and stopped him from breathing.
Care home staff told an emergency dispatcher that Murray had a DNR form in his medical records, prompting paramedics to stop racing to save his life.
While Murray did have the notice on his medical file, it was 'mainly for his heart', his daughter has revealed, and the decision to stand down was a mistake.
Some experts are now calling for 'do not resuscitate' orders to be scrapped altogether, claiming they are putting people's lives at risk.
Robert Murray, who died in June 2021 after choking on fruit at a nursing home in Eastbourne
Robert Murray was diagnosed with early on-set Parkinson's when he was 55.
Since 2016 he had had a DNR in place, his daughter Wendy Murray told BBC News.
READ MORE: Dementia-stricken care home resident, 81, who died from a cardiac arrest was not given CPR 'because staff confused her with another resident with same first name and a DNR' 
'He completely agreed with it,' she said. 'It was mainly for his heart, as he had a murmur, but he never wanted to come back from Parkinson's.'
She said that her father may have survived if his file had been properly checked.
'If his heart was failing… I could totally understand that. But when he died of a choking incident, which is not a natural way of dying, it didn't get picked up,' she told the BBC. 
Alan Craze, senior coroner for East Sussex, carried out an inquest into Murray's death in March last year, during which it emerged his DNR was only to apply in case of cardiac arrest.
He said: 'From listening to the 999 call between the registered nurse at the care home and the call operator, and also from evidence heard at the inquest, it is apparent that no one involved understood that there are circumstances when the DNACPR should not be applied.
'I am concerned that this may potentially be an issue elsewhere in the country and further training and clarification is therefore necessary.'
In 2022, paramedics separately failed to resuscitate a dying care home resident after her records were mixed up with someone with the same name, it was claimed.
Joyce Parrott, 81, died in April 2020 after suffering a cardiac affect at a home in Cambridgeshire.
Ambulance staff were wrongly told she had a DNR notice in place, an inquest heard. 
HC-One, which operates the care home in Whittlesey, apologised to the family, a spokesperson saying it was 'deeply sorry' that 'a mistake was made'.
Illustrative image shows ambulances outside Eastbourne District Hospital, 28 December 2020
The Elms in Cambridgeshire said the home had since made 'important changes to the way we communicate key information to our full time and temporary care colleagues to ensure that such a mistake is not repeated'. 
According to the BBC, the nursing home in Eastbourne has since updated advice on 'Do Not Attempt Cardiac Pulmonary Resuscitation' forms in all care plans and provided refresher training on basic life support to staff. 
MailOnline contacted the Avalon Nursing Home in Eastbourne for comment. 
Source: Read Full Article