Moment restaurant diner puts hair in her own food to avoid paying bill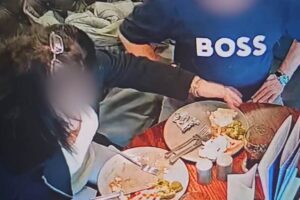 Strand and deliver: Moment devious diner uses her own HAIR to put in her roast dinner to con refund out of restaurant for her £12.95 bill
Tom Croft, 32, refunded a guest £12.95 after she complained of hair in her meal
After reviewing CCTV footage he saw the woman used her own hair for the trick 
A pub owner has been left 'disgusted' after a customer placed their own hair in their food to get a refund.
Furious Tom Croft, 32, had refunded a guest £12.95 for a beef roast dinner after they claimed they had found a hair in their food in the Observatory in Blackburn, Lancashire.
But when he checked the CCTV footage to make sure his staff's hair was tied back, he was left 'disgusted' after seeing the customer put her own follicles into the food.
The video shows the female customer whispering to a man, before she then pulls out a piece of her long, black hair and puts it on the half-empty plate.
This  woman, pictured left, pulled a strand of hair from her head and placed it onto her half-eaten dinner to seek a refund on the price of her £12.95 lunch
The woman caused a scene at the bar to force publican Tom Croft to issue a refund
Mr Croft said the customer then complained to a member of staff and 'caused at the scene' at the bar – which is why she was given a full refund for the meal.
He said: 'We reviewed the footage to see what had gone wrong, incase a member of staff didn't have their hair tied back or whatever, but then we found the clip.
'I was disgusted and angry – very angry.
'There are people out there that are willing to put a business' reputation and staff's jobs at risks for a £12.95 meal.
'The kitchen team could have then thought it was their fault, when they had done absolutely nothing wrong.'
Mr Croft has co-owned the restaurant for five and a half years but says he has never experienced anything like this before.
He added that if he didn't find the CCTV footage, that his business' reputation would have 'been a big worry.'
After handing over the cash, Mr Croft, pictured, reviewed CCTV footage from the table to determine if one of his staff were responsible for the hair. It was at this stage he saw the woman place her own hair on the plate
Mr Croft said this could have had a massive impact on his business as he has a five-star 
Mr Croft said: 'We've not had anything happen like this before.
'If we hadn't found the CCTV footage, then our reputation would be a major concern and a big worry.
'People don't want to eat in places where you find hair in food.
'We have a five star food hygiene rating and adhere to all the food safety guidelines.
'But if we hadn't found the CCTV footage, then it could have quite easily damaged our reputation.'
Mr Croft now wants to warn other business owners and is advising them to 'keep their eyes out' for other people who might pull a similar stunt.
He said: 'I just want to obviously warn other businesses to keep being vigilant.
'You need to keep your eyes out, not just for these two people but incidents of a similar nature.
'There are people out there who are willing to chance this with another business.'
Source: Read Full Article