Moment TalkTV host James Max storms off his OWN show after covering his face with newspaper during viewer call | The Sun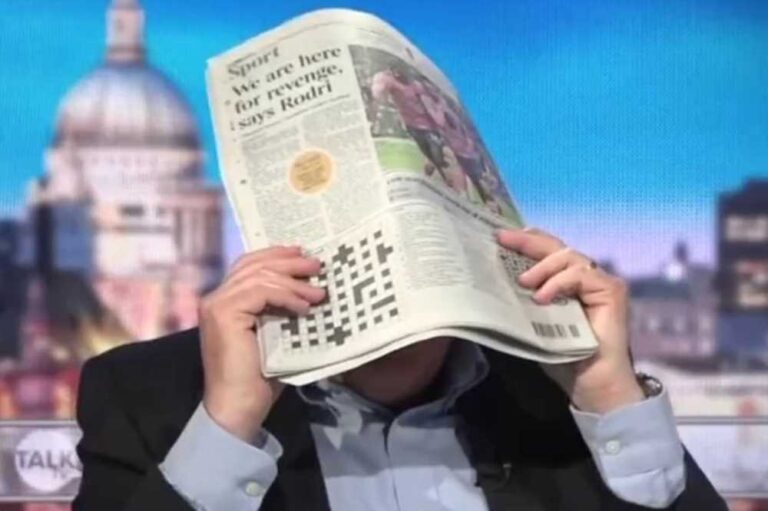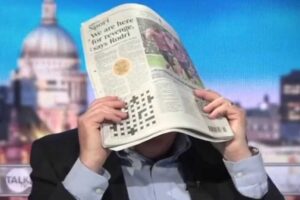 THIS is the moment a TalkTV host jokingly stormed off the set of his own show during a call with a viewer.
James Max was left exasperated during the call – covering his face with a newspaper as he discussed politics with Ken in Kent during this morning's breakfast programme.
Just after 5.30am, James said: "I do wonder sometimes why I even bother turning up.
"Just, I don't know, put 50p in the slot and just let you go."
Confident regular ringer-in Ken responded: "The good thing is, you turn up, you get facts from Ken.
"I mean Ken tells the truth. It may not be to every body's liking, but it's reality."
READ MORE UK NEWS
Brits to enjoy 18C sun today – but Met warns thunderstorms & hail to hit
Climate activists cripple London by using legal loophole to halt traffic
To this, James put his head in his hands and then shook his head before Ken continued.
"I have no doubt you'll get a few callers coming in saying what a bigoted and biased or prejudiced man that is of Tories, but Labour are just as bad," he added.
"It's like with the local elections. What's going to change? Nothing.
"The only thing that will change is that we'll end up with a few Greens, a few yellows or oranges or whatever colour Liberals are, maybe a few reds that are going to change the colour from blue, but is it going to change anything? No."
Most read in The Sun
Huge 90s boyband confirm comeback after performing for first time in 4 years
Wills' most powerful statement was 'No, we're NOT racist'… until Sunday night
Charles and Camilla thank Britons for support as official portraits released
Shock moment mass brawl involving 50 people erupts in Brit holiday hotspot
An impatient James then hid behind a copy of The Times before asking: "Are you finished?"
Ken chuckled as he said "not quite" but James butt in with: "I thought this was supposed to be a conversation.
"I've never been more bored Ken."
Minutes later, James said: "I just think that when you trash the legacy of Margaret Thatcher, one of the greatest prime ministers we've ever had, nobody really wants to listen to that, Ken."
He replied: "She wasn't, James. She stole the milk from the kids then she started selling social housing. Where are we with housing?"
James then pulled off his microphone, took his earpieces out and said: "I'm just going to leave you just to talk.
"Are you finished yet? Just go."
With a dramatic sigh he then left his seat and exclaimed: "That's enough. Ken enough. Bye. I'm off."
A clip of the exchange on TalkTV shared on Twitter has been viewed thousands of times.
Users were divided over who was in the wrong, with some siding with James and others urging Ken to "keep calling".

Source: Read Full Article