'Murdered' dog walker, 54, found dead by her family after suffering 'violent or unnatural death', inquest told | The Sun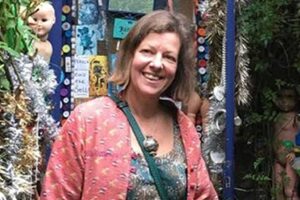 A WOMAN "murdered" on a dog walk was found by her family after suffering a "violent or unnatural" death, an inquest heard.
Claire Knights, 54, vanished while walking her white and brown spaniel Zebulon in Upstreet, near Canterbury in Kent, on August 23.
A high risk missing person search was launched after her silver Suzuki car was found parked in nearby St Nicholas At Wade.
Tragically Claire was discovered face down near Minnis Bay in Thanet by her family two days later, an inquest was told.
Police are treating her death as suspicious and have launched a murder probe.
A post mortem gave Claire's cause of death as blunt force injury and drowning.
Read more news
Evil killer LOSES appeal against conviction after murdering boy, 6, in woodland
Amber Gibson's evil brother jailed for life for murdering & sexually assaulting sis
Coroner Catherine Wood said the death "violent or unnatural" and that further investigations are taking place.
She adjourned the inquest while the criminal investigation continues.
Claire is believed to have walked from St Nicholas At Wade to Minnis Bay with several sightings made.
Her spaniel was found wandering around on the beach on its own by police on August 23.
Most read in The Sun
ROY ASSAULT
Roy Keane 'shaken' after 'headbutt' by fan with Sky set to 'beef up' security
WILL IT STOP
This Morning fans brand Holly Willoughby's big return 'worst opening ever'
SEEING RED
Roy Keane 'headbutted' as Micah Richards holds 'attacker'
FIEND RELEASED
Becky Watts killer seen back on streets after being freed after just 8 years
On the day before her body was discovered, a man in his 20s was arrested on suspicion of murder and remains in custody.
He is currently undergoing assessment by medical professionals.
Tributes have now flooded in for Claire, who joined the The Margate School in 2019 to study a Masters in European fine art.
They said in a statement: "It is with deepest sadness and disbelief that our dear friend Claire Knights has been found dead near Minnis Bay in Birchington."
"She was an outstanding and exceptional artist, whose work reflected her complex, loving nature. Her sculptural work had elements of humour and wit alongside her resounding determination.
"Her initial contact via email in May 2019, in true manner of what she called 'my flipping sense of humour', began with 'I am an un-google-able phenomenon of international acclaim'.
"Our thoughts and condolences go out to Claire's family. Her presence will be sorely missed, she was a frequent visitor to exhibitions and events at TMS with her partner, and she formed strong bonds with her fellow students and friends at the school. Memories of her and with her, will be held fondly."

Source: Read Full Article