New York 'will sink if more skyscrapers are built'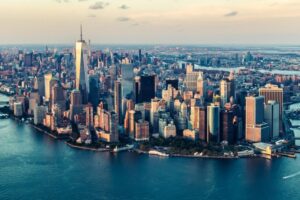 Save articles for later
Add articles to your saved list and come back to them any time.
New York might be iconic for its skyscrapers – but the city should stop building them if it wants to avoid sinking, a new study has warned.
Experts have previously warned that rising ocean levels and climate change pose a threat to the city of 8.4 million people.
Scientists have warned that Manhattan is at risk due to rising sea levels. Credit: GCShutter
But the latest study by a team headed by Tom Parsons of the United States Geological Survey suggested that development is exacerbating the dangers faced by a city where the sea level is predicted to rise by 1.5 metres by the end of the century.
The authors wrote: "The point of the paper is to raise awareness that every additional high-rise building constructed at coastal, river, or lakefront settings could contribute to future flood risk, and that mitigation strategies may need to be included."
There are said to be one million buildings in New York City, weighing an estimated 771 million tonnes.
According to the latest study, the city is already sinking by 1-2 millimetres a year.
The greatest threat is faced by Lower Manhattan and parts of the boroughs of Brooklyn and Queens.
"New York City faces accelerating inundation risk from sea level rise, subsidence, and increasing storm intensity," explained the study.
"A deeply concentrated population of 8.4 million people faces varying degrees of hazard from inundation in New York City.
"Two recent hurricanes caused casualties and heavy damage in New York City.
"In 2012, Hurricane Sandy forced seawater into the city, whereas heavy rainfall from Hurricane Ida in 2021 overwhelmed drainage systems because of heavy runoff within the mostly paved city.
"Additionally, urbanisation itself may exacerbate the problem."
But despite the threat, the authors said the response has been inadequate – even though New York is ranked third in the world for cities most at risk of coastal flooding.
For example, 90 per cent of the buildings erected in areas at risk of flooding after Hurricane Sandy have not been built to the required standard, they stated.
"New York is emblematic of growing coastal cities all over the world that are observed to be subsiding, meaning there is a shared global challenge of mitigation against a growing inundation hazard," they wrote.
Fears over flooding on the US Eastern Seaboard have heightened. In 2014, scientists warned more than 50 cities could be at risk.
Already planners in Boston have suggested that canals could have to be built in the city's fashionable Back Bay area to protect the city.
Elsewhere, Miami Beach has begun upgrading its stormwater system to prevent the sea from backing up into its pipes. Norfolk has also returned some of its coastal parks to wetlands.
The Telegraph, London
Most Viewed in World
From our partners
Source: Read Full Article