No farewell parade: Trump's dawn departure to be a subdued affair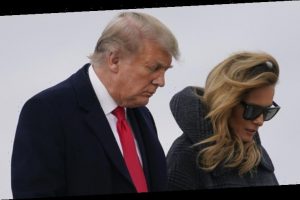 Washington: White House officials are planning a short, subdued farewell ceremony for Donald Trump as he leaves Washington on Wednesday morning for the last time as President, according to a copy of the invitation seen by Bloomberg News.
The event is scheduled for 8am Washington DC local time at Joint Base Andrews just outside the nation's capital, where the outgoing President will make his departure aboard Air Force One for Florida. Invitations have been circulated to supporters, including former administration officials and other backers, asking them to arrive by 7.15am.
Donald and Melania Trump on New Year's Eve. They will leave the White House at 8am on Inauguration Day. Credit:AP
Trump has decided to skip the January 20 inauguration of his successor, Joe Biden, at the Capitol, becoming the first living US President in more than a century to choose not to attend the regular exchange of power. Trump will instead be at his Mar-a-Lago resort as the incoming president is sworn in at noon that day.
At this point Trump is not opting not to issue a pardon for himself as he prepares an expansive list of more than 100 pardons and commutations for release the day before Inauguration, a source familiar with the effort said.
White House advisers have said Trump has privately debated with advisers whether to take the extraordinary step of issuing a pardon for himself but some administration officials have cautioned Trump against a self-pardon because it would make him look guilty.
Many scholars have said a self-pardon would be unconstitutional because it violates the basic principle that nobody should be the judge in his or her own case.
Others have argued that a self-pardon is constitutional because the pardon power is very broadly worded in the Constitution. Historical texts made clear that the nation's 18th century founders discussed self-pardons, but opted not to include an explicit limitation on that power.
The source, speaking on condition of anonymity, said so far Trump does not plan to pardon himself and also does not plan to issue preemptive pardons for members of his family, another subject he has discussed privately with advisers.
Trump, who has already issued two waves of pardons in the past month, met advisers on Sunday to finalize a list of more than 100 pardons and commutations, the source said.
CNN reported that Dr Salomon Melgen, a prominent eye doctor from Palm Beach who is in prison after being convicted on dozens of counts of health care fraud, is expected to be on the clemency list.
Some White House aides will be on the South Lawn for the lift-off of the presidential helicopter with Trump aboard, though the attendance will be limited. Strict security measures throughout downtown Washington and especially near the White House will make it too difficult for outside guests to access the campus.
Trump's decision not to attend the inauguration was announced on January 8 by the President, two days after a mob of his loyalists ransacked the Capitol in a riot that left five people dead. An unprecedented security cordon now encircles the heart of the nation's capital in the wake of that attack.
But he could return to the Capitol within the month, if he is called to appear at his trial in the Senate under the impeachment process. If convicted, he could be disqualified from seeking another run for the Presidency in 2024.
Bloomberg, Reuters
Trump Biden 2020
Understand the election result and its aftermath with expert analysis from US correspondent Matthew Knott. Sign up to The Sydney Morning Herald's newsletter here, The Age's here, Brisbane Times' here and WAtoday's here. 
Most Viewed in World
Source: Read Full Article