Omicron variant latest: Third UK case confirmed as masks to return to schools, transport and shops in England on Tuesday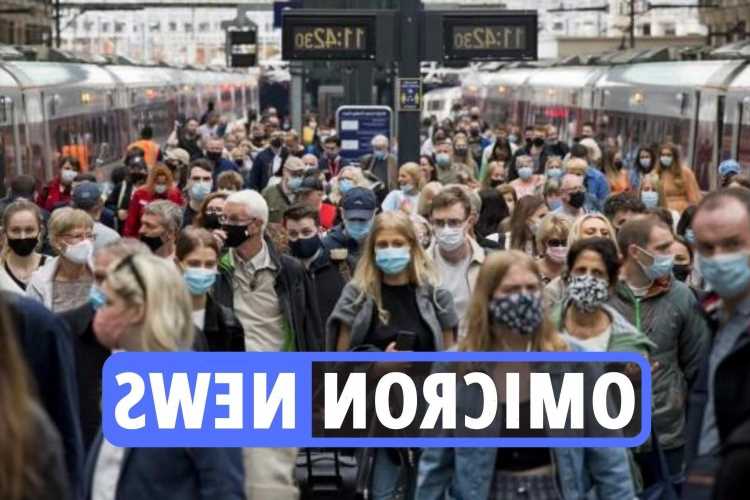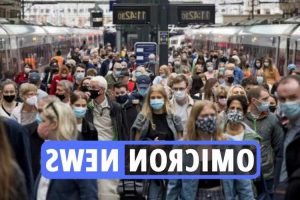 A THIRD case of the Omicron Covid variant has been confirmed in the UK – but Brits have been assured that England is 'nowhere near' tougher restrictions.
Speaking on Sky News on Sunday, health secretary Sajid Javid said people should "continue with their plans as normal for Christmas" – but warned it would be "irresponsible to make guarantees".
But asked if there would be a return to harsher restrictions, Mr Javid add: "We are not there yet – we are nowhere near that."
Read our Omicron live blog for the latest news and updates…
Joseph Gamp


Rwanda suspends direct flights to South Africa

Rwanda has suspended direct flights to and from southern Africa due to the new Omicron COVID-19 variant, the Prime Minister's office said on Sunday.

Edouard Ngirente's office also said in a statement that it would now be compulsory to be fully vaccinated and tested to attend events such as conferences and concerts. 

Joseph Gamp


December 18 review

Mr Johnson stressed that the action on borders, masks and isolation was precautionary ahead of the December 18 review.

He added: "At that point we should have much greater information about the continuing effectiveness of vaccines.

"I very much hope that we will find that we continue to be in a strong position, and we can lift these measures again.

"But right now this is the responsible course of action, to slow down this new variant, and to maximise our defences, so we protect the gains we have worked so hard for and so that we can continue to save lives."

Joseph Gamp


Schools may have to break up early for Christmas 

SCHOOLS could be forced to break up early for Christmas with a surge in Covid cases already wreaking havoc in classrooms.

With more and more staff catching the virus, thousands of kids have already been told to switch to remote learning.

Kids are already being sent home from classrooms and learning moved back online due to spiralling case numbers.

The Department for Education has told headteachers that sending large groups of kids home should be a "last resort" in "extreme cases".
Joseph Gamp


Final Ashes test in Perth in doubt due to tough WA border control measures

Countries around the world have been scrambling to close their borders and impose quarantine restrictions to deal with the new variant, which was first detected in southern Africa.

Authorities in Australia said two overseas travellers who arrived in Sydney from the region became the first in the country to test positive for the new variant.

The England squad is currently in Australia, preparing for the first Ashes test in Brisbane, which is due to start on December 8 in Brisbane.

Already, the Western Australia Cricket Association chief executive Christina Matthews said the fifth and final test in Perth in January is in doubt due to the state's tough border control measures.

"I'd probably say at the moment I'm 50-50," Matthews told Australia's ABC broadcaster.

"I'd gone as high as 97 per cent, but I've gone back to 50-50. We'll wait and see."

Joseph Gamp


'Robust contact tracing has taken place'

Essex County Council director of public health Dr Mike Gogarty said: "Thanks to the excellent work of our contact tracers we have been able to identify three settings which are the focus of our attention for testing.

"The aim is to understand what, if any, spread of the new variant within the local community may have occurred and limit the opportunity for any further spread.

"Robust contact tracing has taken place following identification of the single case."

Joseph Gamp


Visitors to KFC in Brentwood urged to get tested immediately

Visitors to the KFC on Brentwood High Street between 1pm and 5pm on November 19 are being urged to take a PCR test immediately.

Members of the congregation who visited Trinity Church in Pilgrims Hatch on November 21 were issued with the same call by Essex County Council.

They are being urged to attend mobile testing units, for drive-through appointments only.

Joseph Gamp


Contact tracers seeking visitors at an Essex KFC nine days ago

Officials investigating one of the first cases of Omicron are searching for potential contacts as far back as nine days ago, raising questions over how long the new variant of coronavirus has been in the UK.

Essex County Council said targeted testing was being focused on customers, staff and delivery drivers at a KFC in Brentwood on November 19 and congregants at a church two days later.

On Saturday, Health Secretary Sajid Javid announced the detection of the first two cases of the variant first identified in South Africa after tests carried out overnight.

The Brentwood case is said to be linked to another infection in Nottingham involving travel to southern Africa but officials have not stated when the international travel took place.

Joseph Gamp


Omicron variant news: The latest

Fears grow that a Twickenham rugby match may have been an Omicron superspreader event
At least 13 passengers on a flight from South Africa test positive for the new variant in Amsterdam
Australia is hit by the Omicron variant as it's feared at least one Ashes test with England has a '50-50′ chance
The Cardiff Rugby team get stranded in South Africa after an Omicron outbreak
Schools may have to break up early for Christmas as a surge in Covid cases wreaks havoc in classrooms
Switzerland bans Brits from entering in a bid to stop the spread
Spain to ban unvaccinated Brits from WEDNESDAY throwing Christmas holidays into chaos
A dad-of-eight fights for life in a Covid coma after becoming infected while waiting for his second jab

GRAPHIC: UK Covid-19 cases and deaths per day

Passengers arriving in the UK from Tuesday morning will have to take a PCR test, with the expectation they will self-isolate until they test negative.

All contacts with a suspected case of Omicron will have to isolate for 10 days, regardless of their vaccination status.

The variant prompted the government to put 10 African countries on the UK's red list for travel – South Africa, Namibia, Lesotho, Botswana, Eswatini, Zimbabwe, Angola, Mozambique, Malawi and Zambia.

Joseph Gamp


Mandatory PCR tests for all UK arrivals from Tuesday AM

New rules for ALL UK arrivals come in to force from 4am on Tuesday morning.

It comes as the England on Sunday confirmed it's third case of the South African Covid variant dubbed Omicron.

The official No.10 Twitter account posted on Sunday evening: "From 04:00 Tuesday 30 November all international arrivals entering the UK must take a day 2 PCR test and self-isolate until they receive a negative result."

Joseph Gamp


Boris says there will be 'no lockdown like last year'

Mr Johnson refused to give any guarantees but he is clear that there will be no lockdown like last year.

The prime minister reiterated that people will also not be asked to work from home.

In a further move, he announced plans to step up the pace of the jabs programme.

Milica Cosic


Omicron news you may have missed

13 passengers test positive on Dutch flight from South Africa test positive for Omicron
Switzerland BANS Brits from entering in bid to stop the spread of Omicron variant
Major new travel changes introduced to fight spread of Omicron Covid variant
A rugby game at Twickenham may have been a superspreader event

Australia hit by Omicron Covid variant

AUSTRALIA has recorded its first cases of the Omicron Covid variant as it's feared the Ashes tests with England are in doubt.

Tough border restrictions are in place and fears have been raised there's a "50-50" chance at least one game won't go ahead.

Authorities in Australia said two overseas travellers who arrived in Sydney from the region became the first in the country to test positive for the new variant.

The England squad is currently in Australia, preparing for the first Ashes test in Brisbane, which is due to start on December 8 in Brisbane.

Already, the Western Australia Cricket Association chief executive Christina Matthews said the fifth and final test in Perth in January is in doubt due to the state's tough border control measures.

"I'd probably say at the moment I'm 50-50," Matthews told Australia's ABC broadcaster.

"I'd gone as high as 97 per cent, but I've gone back to 50-50. We'll wait and see."

What does Omicron mean in Greek?

Omicron can trace its roots as a word back to Ancient Greece.

In the system of Greek numerals, omicron has a value of 70 and is also derived from the Phonecian letter 'ayin'.

The Greek alphabet system was originally developed in Greece at around 1000 BC.

It's the direct or indirect ancestor of all modern European alphabets which itself was derived from the North Semitic alphabet via that of the Phoenicians.

As it was formed the Greek alphabet was slightly modified through the addition and removal of several letters.

In the past week, Omicron has come to the attention of the world as the name for the latest variant of Covid.

The strain was initially called B.1.1.529 by the World Health Organisation (WHO) and was first reported by South Africa on Wednesday.

BREAKING: UK hit by THIRD case of Omicron

A THIRD case of the Omicron Covid variant has been identified in the UK.

The person tested positive after travelling to Britain from southern Africa where the variant originated.

They are no longer in the UK, but the UK Health Security Agency (UKHSA) is carrying out urgent testing in areas the positive case visited when they were likely to have been infectious.

Read more here.

Milica Cosic


Explained: When do I need to take a PCR test to travel?

Anyone who enters the UK from abroad will now be required to take a PCR test and self-isolate until they get a negative result.

It is hoped the measures will buy scientists time to learn more about the Omicron variant.

But there are fears it will also affect the recovery of the aviation industry that has already been hit hard by the coronavirus pandemic.

Milica Cosic


When do the new travel rules start?

Travel restrictions have already been implemented to slow the spread of the variant and protect our borders.

From 04:00am Sunday November 28, South Africa, Botswana, Lesostho, Eswatini, Zimbabwe and Namibi, Malawi, Mozambique, Zambia, and Angola have been added to the UK's travel red list.

Anyone arriving from these destinations will need to quarantine in a government-approved hotel for 10 days at a cost of £2,285.

Other targeted measures will be introduced from next week as a precaution to slow down the spread of the variant while experts gather more information.

These are:

All international arrivals must take a Day 2 PCR test and self-isolate until they receive a negative result.
All contacts of suspected Omicron cases must self-isolate, regardless of their vaccination status. They will be contacted by NHS Test and Trace.
Face coverings will be made compulsory in shops and on public transport from Monday November 29. All hospitality settings will be exempt.

When Plan B could be introduced

Boris Johnson spoke in a  Downing Street press conference on November 27, 2021 about a potential Plan B.

He says the key response to Omicron has to be to buy time – which can be done by tightening restrictions at the border.

The package of measures (re)introduced today are adequate to combat the Delta variant which is currently dominant, the PM says.

In response to a question about why he is not implementing further plan B measures such as telling people to work from home, Boris Johnson cited the differences between the Delta and Omicron variant and its approach to "slow the seeding" through the border measures being introduced, accelerating the booster programme and giving scientists more time to understand the variant.

Explained: What is Plan B Covid in the UK?

The government has set out plans to tackle Covid over autumn and winter.

This contains the preferred Plan A, which will be followed if the number of infections remains manageable and the NHS is not overwhelmed, and Plan B, if the health service starts to struggle.

Plan A focuses on continuing with the vaccine roll-out.

This means offering it to healthy 12 to 15-year-olds, encouraging those who have not yet come forward to do so, and moving forward with the booster jab programme for those most at risk.

It will also encourage Brits to take up free flu jabs, as well as frequent testing, self-isolation when necessary and the NHS Covid Pass to check vaccination or test status.

Plan B on the other hand will mean the return of measures seen in the UK's various lockdowns.

This could include making face coverings and vaccine passports mandatory in certain locations, returning to working from home, and generally urging the public to behave more cautiously.

It has been claimed that some parts of England will see Plan B measures in the next few days as coronavirus infections continue to rise.

Boris Johnson's speech (Continued…)

While the prime minister refused to say whether further restrictions could be imposed, he said he is "confident" that this Christmas will be "considerably better than the last.

As well as the re-introduction of masks, he said that PCR tests would be required for all overseas arrivals. 

10 new countries have been added to the travel red list as a result of the variant discovery.

So from 4am on Sunday November 28, anyone arriving from these destinations will need to quarantine in a government-approved hotel for 10 days.

What did Boris Johnson say in his speech November, 27?

Experts warned that the strain was the most evolved so far with 50 mutations, 32 of which are a particular concern and could be worse than Delta.

In a speech on November 27, Boris Johnson urged all Brits to get their jabs and confirmed that the third vaccine campaign would get a "boost" by reducing the waiting time between the second jab and the booster.

Boris Johnson described the measures as "temporary and precautionary" – and said they will be reviewed in three weeks' time.

Milica Cosic


'We're not going to stop people travelling'

Boris Johnson told a Downing Street press conference on Saturday: "We're not going to stop people travelling, I want to stress that, we're not going to stop people travelling, but we will require anyone who enters the UK to take a PCR test by the end of the second day after their arrival and to self-isolate until they have a negative result.

"Second, we need to slow down the spread of this variant here in the UK, because measures at the border can only ever minimise and delay the arrival of a new variant rather than stop it all together."

Milica Cosic


Omicron Covid variant contacts will have to isolate for 10 days

THOSE who have been in contact with people infected with the Omicron Covid variant will have to isolate for ten days regardless of their vaccination status under the new rules.

The Prime Minister announced the new restrictions last night amid growing fears over the dreaded super-strain.

Boris also said: "We will require all contacts of those who test positive with a suspected case of Omicron to self-isolate for 10 days regardless of your vaccination status.

"We will also go further in asking all of you to help contain the spread of this variant by tightening up the rules on face coverings in shops and on public transport."

Milica Cosic


State of emergency in New York

A STATE of emergency has been declared in New York amid increasing concerns regarding the Omicron Covid variant.

It comes as President Joe Biden banned travel from eight African countries in a bid to keep the super-strain out of the US.

Ahead of the chaotic Christmas period, Gov. Kathy Hochul signed an executive order on Friday that she hopes will ease pressure on health surgeries ahead of a potential spike in Covid cases.

It is feared infections will be spurred on by the Omicron variant – and despite there being no cases in the Big Apple yet, the world is on high alert.

The New York governor has pledged to postpone elective surgeries in a bid to increase hospital capacity and tackle staffing shortages in the city.

Milica Cosic


'Worst variant ever'

Health chiefs say it's overwhelmingly likely that "very high risk" Omicron is in Germany already after a traveller tested positive for a mutated form of the deadly bug.

Fears are intensifying over the Omicron variant – believed by experts to be the "worst variant ever".

Source: Read Full Article