Paedophile football coach Barry Bennell 'dies in prison aged 69'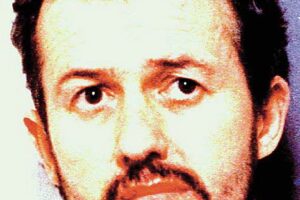 Barry Bennell 'dies in prison aged 69': Paedophile football coach who abused more than 20 boys 'passes away in custody'
Paedophile football coach Barry Bennell has died in custody aged 69, the Ministry of Justice has said.
Bennell, who abused more than 20 boys at prominent football clubs, is said to have passed away on Saturday morning at HMP Littlehey in Cambridgeshire.
The sexual predator, who had cancer, was a youth coach Crewe Alexandra, Manchester City and Stoke City football clubs during the 1980s and 1990s.
Bennell, then 64, was convicted of dozens of sexual offences against many young boys at Liverpool Crown Court in 2018.
As he sentenced him to 34 years behind bars the judge called the monster he was 'the devil incarnate', saying: 'To those boys you appeared as a god… in reality you were the devil incarnate. You stole their childhoods and their innocence.'
Paedophile football coach Barry Bennell (pictured) has 'died in custody' aged 69
Due to a cancer diagnosis it was believed that he would likely die in HMP Littlehey, a prison for sex offenders in Cambridgeshire.
Bennell, a former Manchester City scout, abused boys he coached in the 1970s, 1980s and 1990s. 
A spokesman for the Ministry of Justice said: 'Prisoner Barry Bennell died at HMP Littlehey on September 16.
'As with all deaths in custody, the Prisons and Probation Ombudsman will investigate.'
Bennell, also known as Richard Jones, was jailed for 30 years in 2018 after being convicted of 52 child sexual offences against 12 boys.
He was ordered to serve an additional four years in 2020 after pleading guilty to other offences against two boys.
When he was sentenced at Liverpool Crown Court in 2018, Recorder of Liverpool Judge Clement Goldstone QC said he 'may well die in prison'.
His final prison sentence, in 2020, was the fifth time he had been jailed.
At that hearing, the court was told he had a detached retina after being attacked in prison and was in remission from cancer.
As he was convicted in 2018, Gary Cliffe, a former young star who became a police officer, read out his victim personal statement from the witness box and then approached the glass dock, asking calmly: 'Barry. Barry. Why?' He was then escorted back to his seat by a member of court staff.
Bennell was first arrested in while on a 10-week tour of the United States when coaching a Staffordshire youth team.
He was then convicted a year later in Florida of four counts of indecent assault on a 13-year-old boy and sentenced to four years in jail. His victim was also abused by Bennell in Britain, which then lead to a domestic investigation.
He was exposed in a January 1997 episode of Channel 4's Dispatches when a former youth player told the Soccer's Foul Play programme he was sexually abused by Bennell.
In September that year, the US authorities deported the sex offender to the UK where he was charged with more sexual offences. In June 1998 he then pled guilty at Manchester Crown Court to 23 counts of sexual abuse relating to 15 complainants, aged from nine to 14, between 1978 and 1992. He was sentenced to nine years behind bars.
In May 2015 Bennell pleaded guilty at the same court on the first day of his scheduled trial where he was accused of sexually abusing a 12-year-old boy in 1980. He was jailed for two years.
The court heard the victim was abused at Bennell's living quarters at Taxal Edge while staying with him as he took part in coaching sessions in Macclesfield.
He was convicted in February 2018 of 43 counts of child sexual abuse against 11 victims.
Source: Read Full Article