'People are taking extraordinary risks': Beijing faces the A4 army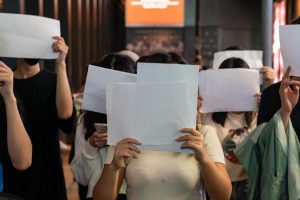 Singapore: In Sichuan, south-western China, hundreds of parents protested against the Chinese government after their children were killed in an earthquake while sitting in dodgy classrooms. It was 2008 and the Communist Party responded by noting the parents' names. One by one it explained how it would systematically destroy the lives of every member of their family if protests continued.
In 2011, the Arab Spring swept the Middle East. In China, a small band of human rights and democracy activists attempted to start their own "Jasmine Revolution". By February, they managed to gather small crowds of dissent in a dozen cities. By the end of the month, 35 lawyers and activists had been arrested, the movement was crushed, and its leaders sent to jail for "inciting subversion of state power".
A protester holds up a sign in Beijing on Sunday. Credit:AP
China's state security apparatus is more sophisticated now – it uses cameras, artificial intelligence and blockades to stop most dissent from ever germinating. But so are its protesters, who have taken lessons from Hong Kong's pro-democracy movement on how to navigate the government's labyrinth of censorship. Now, they are demanding an end to its COVID-zero policy and condemning its crackdown on freedom of speech.
"We don't want lockdowns, we want freedom," protesters sang in Shanghai on Sunday, repeating the slogans of "Bridge Man", the lone dissident who unfurled a banner from Beijing's Sitong Bridge in October. "We don't want to be slaves, we want to be citizens."
The protests that have swept across the country this week have no clearly identifiable leaders. They are driven by what appears to be spontaneous localised responses to COVID-19 measures. But behind internet firewalls, they are loosely coordinated via the messaging service Telegram. So far, they have gained maximum visibility on social media by using clearly identifiable symbols such as blank pieces of paper without gathering huge crowds and risking a deadly crackdown by the armed forces.
Image of the bridge protest in Beijing that was shared on social media in October.Credit:Twitter
They are calling it the "A4 revolution".
"They learnt something from Hong Kong," said Chongyi Feng, an associate professor of Chinese politics at the University of Technology, Sydney. "Be water".
The tactic allows protesters in smaller groups to be fluid and flexible. Thousands have gathered in a dozen cities and some have been detained, including BBC reporter Edward Lawrence on Sunday, but local officials have largely allowed the gatherings without resorting to mass arrests.
"Compared to 1989 it is a very different kind of protest," said Feng, who was detained by Beijing in 2017 and whose friend, Chinese-Australian pro-democracy writer Yang Hengjun is currently behind bars in Beijing.
"I don't think there has been an order from the top because, in Beijing, Shanghai and Guangzhou, the police have largely refrained from taking violent measures. That is a clear indication that the top did not give an order for them to suppress the protests."
Yan Long, an associate professor of sociology at the University of California, Berkley, said the mobilisation process was far more important than outcomes.
"The majority of social movements do not lead to immediate changes," she said. "But the participation itself means a hopeful future for China."
At Tsinghua University, the site of one of the largest gatherings on Saturday, officials have not responded to the open show of defiance by hauling off students. Instead, they offered them free transport to their hometowns to avoid lockdowns on campus.
"They are making concessions rather than suppression," said Feng. "But if they keep making concessions they will embolden the crowd to organise more protests. If they go the other way, to escalate the suppression, it may also trigger a stronger response from the population as well."
"I see the current situation as a stalemate."
Police blocked off most major gathering points across the country on Monday, preventing the weekend's scenes from repeating, but a fresh round of lockdowns could trigger another wave of dissent as the government's censorship machine struggles to respond to the wave of subversive content flooding the social platform Weibo.
Activists have been taking videos of videos to get around triggers for sensitive content flagged in live streams. Censors are responding by scouring the internet for blank pieces of paper. Protesters are posting inane comments like "I want to see a movie!" to navigate the restrictions while telegraphing their displeasure with the COVID-zero.
"It has failed miserably," said Feng.
People in Hong Kong hold sheets of blank A4 paper and flowers to protest against COVID-19 restrictions in mainland China.Credit:Getty
The videos, symbols and photos have multiplied across Twitter, where anonymous activist accounts distribute them to the outside world. Chinese government-linked accounts have responded by flooding the site with spam and complaints about activist content, overwhelming Twitter's moderators. In the days since the first protests, Chinese police have been asking pedestrians to show them their phones and forcing them to delete Twitter and Telegram apps.
China's satirical edge has moved from online platforms to the streets of Shanghai. At a rally on Sunday police asked the crowd to stop chanting for an end to restrictions. The crowd responded by yelling "we want more lockdowns" and "we want to do more COVID tests".
"People across China are taking extraordinary risks to demand their human rights," said Yaqiu Wang, senior China researcher at Human Rights Watch. "The Chinese authorities should not suppress the protests but instead allow everyone to peacefully express their views."
The Chinese government is now attempting to lay the blame for the protests on "hostile foreign forces"– Beijing's shorthand for the United States and the West.
"On social media, there are forces with ulterior motives that relate this fire with the local response to COVID-19," said Foreign Ministry spokesman Zhao Lijian, referencing the 10 deaths in a fire in Xinjiang that sparked the protests.
Chinese President Xi Jinping appears on screen near a photo showing him in a mask highlighting China's fight against COVID at the Museum of the Community Party of China in Beijing.Credit:AP
But many of those gathered in Beijing, Shanghai, Taiyuan, Wuhan and Hangzhou have grown tired of the scare campaign.
In Beijing on Sunday, one student used a megaphone to warn the others to wary of "external, anti-China forces" stirring dissent.
"Do you mean Marx and Engels?," responded another student, referring to the German Marxist philosophers.
"Did external forces cause the Xinjiang fire? Did external forces cause the quarantine bus in Guizhou to overturn? We can't even connect to the internet abroad. We only have internal forces preventing us from gathering. Where are the external forces? The moon?"
Get a note directly from our foreign correspondents on what's making headlines around the world. Sign up for the weekly What in the World newsletter here.
Most Viewed in World
From our partners
Source: Read Full Article