Plans to drill gas off Sydney coast shelved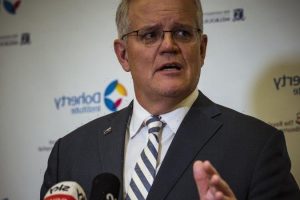 A controversial proposal to drill for oil and gas off the coast of NSW between Manly and Newcastle will not go ahead after a long campaign by environmental activists and opposition from federal Coalition MPs who are now under threat from independent candidates focused on climate change.
Prime Minister Scott Morrison said the federal government had "taken the first step" to formally reject an application for the petroleum exploration permit, known as PEP-11.
Scott Morrison has killed off a politically sensitive proposal to drill for gas off Sydney's coastline.Credit:Chris Hopkins
He said NSW Deputy Premier Paul Toole and the National Offshore Petroleum Titles administrator had been advised of the decision.
"The NSW government has also, I note, recommended refusing the application for the licence that was originally granted by the previous Labor government," he said.
He said the decision was based on reasons including the high levels of community opposition.
Advent Energy had planned to conduct drilling and seismic testing ahead of pursuing approval for production in the zone, which covers an area of over 4500 square kilometres starting 4.5 kilometres off the NSW coast, running parallel to some of its most famous beaches and key federal seats.
Jason Falinski, the Liberal member for the northern Sydney seat of Mackellar described the decision as an early Christmas present for the people of NSW. He said it was consistent for the government to back a gas-led recovery, but not support plans to drill for gas off the coast when there were other areas that could be readily exploited for the resource.
Dr Madeline Taylor, a senior lecturer at Macquarie University law school and a councillor with the Climate Council welcomed the decision but described it as piecemeal.
"The federal government is still trying to open up over 80,000 square km of new proposed offshore gas basins in Commonwealth waters, including the Otway Basin in Victoria. That's an area larger than Tasmania and the ACT combined," she said.
"[The government] must heed the advice of the International Energy Agency, energy experts, economists, communities, and the rest of the world that's moving away from gas. Gas is dangerous, polluting, and a bad investment."
She said the government's support for gas was contradictory to its international commitments to reduce greenhouse gas emissions.
In March Mr Morrison said he opposed the plan, which has enjoyed the backing of Resources Minister Keith Pitt, despite the government's enthusiastic support for expanding Australia's gas industry.
On Thursday, Mr Morrison stressed the government still believes gas has an important role to play towards achieving net zero emissions and keeping electricity prices down.
He said the government was moving forward with its gas-fired power plant at Kurri Kurri, in the NSW Hunter, and investment in the Beetaloo Strategic Basin Plan in the Northern Territory.
"This isn't about being for or against the resources industry," Mr Morrison said. "This is about making a sensible, practical, balanced decision."
A petition opposing the PEP-11 project gained 60,000 signatures and was presented to Federal Parliament last year by Warringah MP Zali Steggall, who defeated former prime minister Tony Abbott at the last election after campaigning on environmental issues.
Liberal MPs Dave Sharma and Mr Falinski, who will campaign against climate-focused independent candidates in next year's federal election, have also voiced their opposition.
"[Independents claim] that we cannot deliver on policies like this," Mr Falinski said.
"So I say to those who are running against people like [fellow moderate Liberal] Dave Sharma: your entire rationale for doing that today has been undone."
A guide to the environment, what's happening to it, what's being done about it and what it means for the future. Sign up to our fortnightly Environment newsletter here.
Most Viewed in National
From our partners
Source: Read Full Article